Infosec IQ release: Localized learner experience & new campaign kit
April 18, 2020
With the latest Infosec IQ release, learners can now self-select their preferred language to translate and localize their end-to-end training experience. The release also introduces the Outsmart Them All Simulated Phishing Kit, PCI DSS training modules and COVID-19 scam awareness resources.
Jump ahead
Translate & localize the learner experience in 30 languages
Learners can now self-select their preferred language to translate and localize their end-to-end training experience. Along with existing training modules and assessments available in over 34 languages, the learner dashboard is now translated and localized in 30 languages. This allows you to tailor the appropriate learning experience for every employee, regardless of their location.
Fight phishing with the Outsmart Them All Campaign Kit
With our new campaign kit, simulated phishing and training is easier than ever. The Outsmart Them All Campaign Kit includes phishing templates, in-the-moment training resources and posters, allowing you to launch a full year of simulated phishing training in five minutes.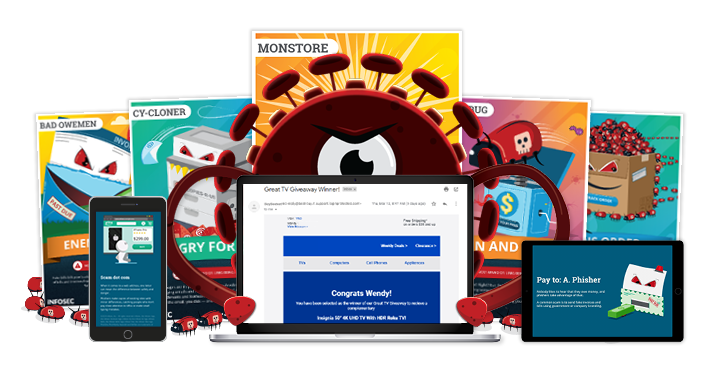 What's included:
5 impersonation templates
5 enticing offer templates
5 brand imitation templates
5 advanced attack templates
15 animated education pages
10 themed posters
Step-by-step campaign instructions
The phishing education resources for this kit are bite-sized, allowing you to deliver brief, actionable training to learners who need it most. Log in to access the training kit or download the free version below.
Additions to PCI DSS training
Three new PCI DSS training modules are live in Infosec IQ to help you train employees and stay compliant. New modules include:
Keep employees safe and secure with new COVID-19 awareness resources
Want to supplement your existing simulated phishing program with the most common in-the-wild COVID-19 phishing attacks? Use the new COVID-19 Attacks phishing template category to prepare employees for common attacks exploiting COVID-19 fears and remote workers.
You can also share our Top 9 Coronavirus Phishing Scams infographic with employees to give them a first-hand look at the most common attacks.
What's coming next
For a summary of the features listed above and an overview of all training content and platform features coming in the next six months, read the Infosec IQ product roadmap.
Contact Information
Jeff Peters