[New training resources] Level up your zero trust and risk assessment programs
October 10, 2022
The cybersecurity training resources offered through Infosec Skills are constantly expanding and adapting to support the ongoing skill development needed by organizations — large and small — to keep up with technology change and emerging cyber threats.
Our Infosec Skills product pillars have guided and influenced the latest changes to our on-demand training library. Specifically, anticipating learner needs to deliver hands-on training tailored to roles and learning styles
Over the past few months, we have added:
Four new and two refreshed learning paths

30 new courses

13 new labs

52 hours of training
Supporting a zero trust program
Is your organization beginning or advancing its zero trust program? Security engineers will play a critical role in how digital systems are designed and secured. Our new Fundamentals of Zero Trust Learning Path will help your team not only understand the core concepts of zero trust in cybersecurity, but how to migrate to a zero trust architecture.
If you're looking to upskill your team in other areas related to systems architecture and administration, check out our Security Engineer training recommendations.
Assessing the risk of new and existing systems
Whether you have a dedicated information risk analyst or a team that shares the responsibility of systems security, this is an important function when it comes to identifying opportunities
to improve the risk posture and monitoring risk tolerance. Check out these new training resources to level-up risk management at your organization.
(ISC)² Certified Authorization Professional Certification Learning PAth - 2022 Update:

Prepare your team for the latest version of their CAP exam with this newly refreshed, self-paced certification path. We've included in-depth coverage of all seven domains and unlimited practice exam attempts. If you're looking for accelerated and guaranteed certification, we'd recommend our live, instructor-led

(ISC)² CAP

Boot Camp.

NERC CIP Learning Path:

Help your team understand the security regulations of the Bulk Electric System (BES) and prepare to work with auditors with this self-paced learning path. Your team will be guided through fourteen unique courses covering the creation of NERC and each CIP controlling family.

Certified CMMC Professional 2.0 Boot Camp

:

Looking for CMMC 2.0 support and guidance? This new five-day boot camp will provide your team with a comprehensive overview of the new Cybersecurity Maturity Model Certification requirements and prepare them to earn their Certified CMMC Professional (CCP).
Understanding and simulating real-world attacks
A key goal for many of our clients is to help reduce overall business risk. Check out these new training resources to help your team improve threat intelligence efforts at your organization and also gain hands-on experience with the MITRE ATT&CK® Matrix for Enterprise.
Threat Intelligence Learning Path:

This self-paced learning path provides an introduction to threat intelligence with theoretical, practical and hands-on fundamentals — giving your team a path towards professional intelligence analysis.

MITRE ATT&CK - Execution Labs:

We've released nine new labs to help your team build the skills they need to prevent execution techniques that result in adversary-controlled code running on a local or remote system.

MITRE ATT&CK - Persistence

:

From port knocking to authentication process modification, your team will learn how to prevent adversaries from gaining persistent access to a system over the course of four hands-on labs.
Cybersecurity Talent Development Playbook
Check out our latest ebook for pre-built training plans that will help you upskill talent for 12 common cybersecurity job roles — from inexperienced to advanced! Each of our 12 training plans is backed by research into the skills most requested by employers and reviewed by a panel of cybersecurity subject matter experts. Download our ebook for free and leverage our recommendations to:
Personalize development plans for each employee
Upskill and cross-train talent for open cybersecurity positions
Boost employee engagement and talent retention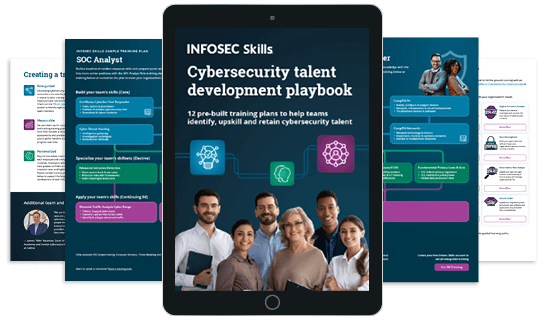 Explore what's coming next
Want a preview of the training content and features coming soon? Read the Infosec Skills product roadmap to see what we're working on now!
Contact Information
Jeff Peters