Infosec IQ release: Drag-and-drop email editor, orchestration rule upgrades & more
October 16, 2020
The latest Infosec IQ release introduces a new phishing simulation and email notification editor along with new options when building PhishHunter Orchestration Center rules, new Need to Know training modules and more.
Jump ahead
Try the new drag-and-drop email editor
We upgraded every Infosec IQ email editor to make it easier to build professional email notifications and life-like phishing templates. The new editor includes drag-and-drop functionality that empowers anyone on your team to build great-looking emails in minutes. Want to see it in action? Watch here.
Drag-and-drop editor
Our new email editor allows you to drag and drop elements such as text boxes, images, buttons and more to build well-formatted emails without any coding skills. Want to use a pre-built email or copy a real phishing attack? The new editor includes an HTML block, allowing you to copy and paste the HTML code from any email or build your own emails from scratch.
Mobile-friendly design
Every email built with the new editor is responsive, giving your learners the optimal experience whether they access your emails from their desktop computer or mobile device. Toggle the Desktop and Mobile options to preview each email version before assigning them to a campaign.
Upload and customize images
You can now upload images to include in your notifications or simulated phishing emails. Infosec IQ hosts the image files and allows you to crop, resize and add effects to images.
Email variables made easy
Our new editor is pre-loaded with variables so you can dynamically populate your emails with your organization's branding, learner information, manager details and more. See the complete list of variables here.
Build your own phishing indicators
We made it easier to assign phishing indicators to your templates, so you can serve tips to learners who click simulated phishing emails. Drag the Phishing Indicator content block into your email to add a custom hint.
Default notification redesign
The default AwareEd and PhishSim notifications were redesigned to look better in learner inboxes.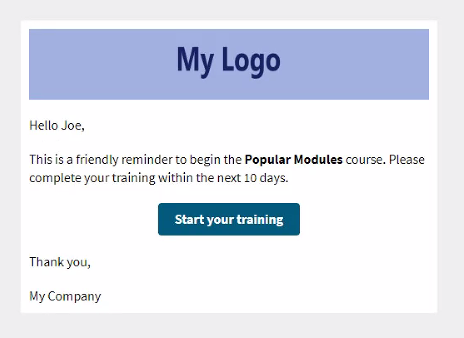 These changes have been applied to all current campaigns using the default notifications.
Note: The Default notification redesign is the only change impacting campaigns currently running in your Infosec IQ account. Moving forward, when you clone, edit or create a new email, Infosec IQ will use the new drag-and-drop editor.
Build more sophisticated threat response rules
We continue to build new options in the PhishHunter Orchestration Center to give you more flexibility to organize and automatically respond to employee-reported email threats.
Build rules from email body content
You can now build PhishHunter Orchestration Center rules based on elements within the body of an employee-reported email. This allows you to automatically adjust the threat score, add tags or deliver notifications when elements within an email body match one of your custom rules.
New string operations
New string operations are now available in the Orchestration Center rules manager, giving you more flexibility when building rules and assigning automated actions for employee-reported emails. New string operations include:
Equals
Does not equal
Contains
Does not contain
Starts with
Matches (regex)
The latest Orchestration Center updates allow you to build more sophisticated rules to leverage your existing threat intelligence, define unique actions for specific threats or false alarms and improve the workflow of your security and response teams.
Watch the new Need to Know modules
Need to Know Volume 2 now includes thirteen training modules. Search Need to Know in the Content Library to watch them all!
Need to Know: Replying to Suspicious Emails
Harold helps Cecil spot a few enticing phishing hooks dangling in his inbox.
Need to Know: Clean Desk Policy
The company prepares for a Clean Desk Competition, but Ben doesn't seem to understand the point...or does he?
What else is new
Teach your employees the basics of restricting access to cardholder data in the latest addition to our new PCI DSS training series.
Need to Know in Hebrew
The original, 11-module Need to Know series is now available with Hebrew subtitles.
Improved UI when editing questions and building assessments
We extended the display width of the Questions and Assessments pages in Infosec IQ, making it easier to edit or build new questions and assessments.
See what's coming next
Want a preview of the training content and features coming soon? Read the LX Labs roadmap to see what our talented content team is working on and reference the Infosec IQ product roadmap for upcoming features.
Contact Information
Jeff Peters