What's new in Infosec IQ — Summer 2022
June 17, 2022
It's our mission to help you empower and engage all your employees with security awareness and privacy training to stay cyber-safe at work and home. That's why we continue to develop new training content, materials and tools that inspire lasting behavior change, build a strong cybersecurity culture and reduce your overall cybersecurity risk.
In this post, we dive into the top additions from the past three months:
Delivered the 6th game in the Choose Your Own Adventure series
Released four new training modules
Added over 30 simulated phishing templates
Produced three monthly newsletters
Developed a two-year Just the Facts program plan
Updated the AwareEd Course builder experience
Jump ahead
Expanded our Content Library | New PhishSim email templates
Platform and add-on Updates | What's next in 2022?
Expanded our Content Library
Modules and games to engage and excite
Over the past three months, we added four new modules that take a deeper dive into topics like IoT, Travel Security and Incident response. We also produced a report phishing module that walks a learner through how to successfully report a phishing email using PhishNotify.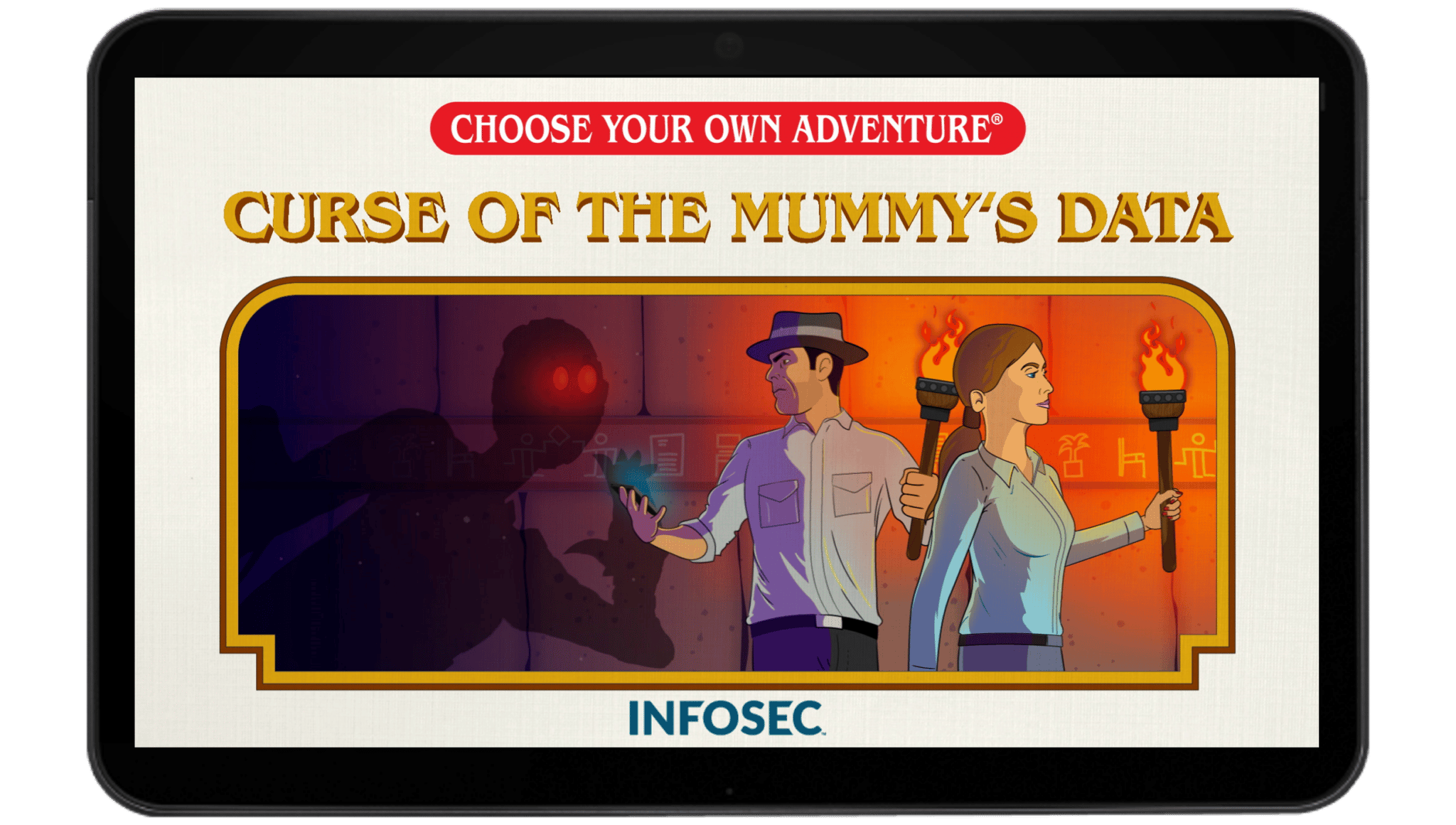 The pièce de résistance was the release of our 6th game in the Choose Your Own Adventure series: Curse of the Mummy's data. Learners will play along helping the Pharaoh protect his "historical" data from the archeologists while learning about the important topics within physical security.

Two years of Just the Facts!
Did you know that 50% of our customers have watched at least one module in our Just the Facts series? With this series being the consistent favorite amongst our customers, we have produced a two-year program plan! You can automate your program 24 months into the future with pre-built training and simulated phishing content. This series has been fully translated into 30 additional languages and is available as a SCORM as a service download.
Newsletters to educate
You can also reinforce best practices by utilizing our monthly newsletters found in the program resources section in the IQ content library. Here are the topics that were covered over the last three months:
Cybersecurity and the Russian invasion of Ukraine (April 2022)
World Password Day (May 2022)
School's out for summer! (June 2022)
New PhishSim email templates
One way to inspire lasting behavioral change is by providing employees with in-the-moment training after being phished. With our simulated phishing attacks, learners will be immediately educated on what to look out for next.
We also believe that providing you with up-to-date, relevant templates is another way to ensure your learners are ready if the bad actors make their way into your environment. Over the past three months, we have added 30 new templates to our simulated email template library. Here are the templates that were the most "popular" aka — had the highest phish rates:
» Adobe Sign — Signature Requested (15.9% phish rate)
» Visa Gift Card — Claim your eGift today! (7.8% phish rate)
» Zelle — Payment Processed (5.2% phish rate)
Platform and add-on Updates
Updated course builder experience
If you have built a new or modified an existing course, you have probably noticed a change to the overall course builder experience! We have now moved the course builder to the right-hand side of the screen to give you better visibility into what content has been added.
New PhishNotify Gmail add-on coming soon!
In the next couple of months, we will be releasing a new Gmail add-on version of PhishNotify. It will enable a standardized reporting process across common web browsers like Chrome, Microsoft Edge, Safari and Firefox. This add-on will live inside Gmail and make it even easier for your learners to successfully report emails.
The current chrome extension will sunset by the end of 2022. We will be sending out communication and steps to get customers successfully moved over to the new add-on.
Features & content coming next
Want a sneak peek at the features and training content coming to Infosec IQ in 2022? Review the Infosec IQ roadmap
Contact Information
Jeff Peters