Infosec IQ release: Track security awareness impact easier than ever
July 22, 2021
The latest Infosec IQ release introduces a significant improvement to security awareness and simulated phishing reporting. Learn more about the new dashboards and see the latest training content added to Infosec IQ.
Jump ahead
Track results easier than ever
Security awareness and simulated phishing training improves employee behaviors and reduces your organization's risk. We're making it even easier for you to prove it.
The latest release introduces a new layer to Infosec IQ reporting called dashboards. Dashboards automatically surface your most impactful data in a single, concise view. This makes it easy to uncover insights, track progress over time and share results with stakeholders.
Replace data tables with actionable visualizations
Dashboards visualizations are eye-catching and actionable so you can spend less time analyzing and interpreting data and more time addressing your greatest vulnerabilities.
Use filters for targeted metrics
Filter your dashboards by date range, department, campaign and more to prove compliance, uncover deeper insights or investigate ways to better prepare your workforce for the cybersecurity threats they face.
Customize your dashboards
Infosec IQ dashboards are completely customizable, giving you the ability to prioritize the data that matters most to do.
Customization options include:
Duplicate and edit existing dashboards and widgets
Reorganize or remove reporting widgets
Update colors & styles
Note: Customization is available in the Infosec IQ Enterprise Plan only
Share and export data
Want to share a custom dashboard with another account administrator? Grant them access to your dashboard so it appears in their library. You can also export all dashboard data, graphs and charts to share results internally or incorporate data with other reports and tools.
Coming soon: Send dashboards to executives, stakeholders and other non-administrators automatically.
Reduce Your Phishing Risk - PhishSim Dashboard
The Reduce Your Phishing Risk - PhishSim Dashboard surfaces the most impactful simulated phishing and employee behavior metrics in a single view. Track your phish rate and report rate over time, monitor your trend lines and compare your performance against industry benchmarks.
With the Reduce Your Phishing Risk - PhishSim Dashboard, you can drill down into specific employee behaviors, phishing template difficulty, campaign details and more to gain a deeper understanding of your workforce's strengths and vulnerabilities. Filter your dashboard by time, department, group or campaign for further analysis.
Train and Engage - AwareEd Dashboard
The Train and Engage - AwareEd Dashboard surfaces the most impactful awareness training metrics in a single view. Monitor your training completion rate over time, segment by department, track on-time training completion and more.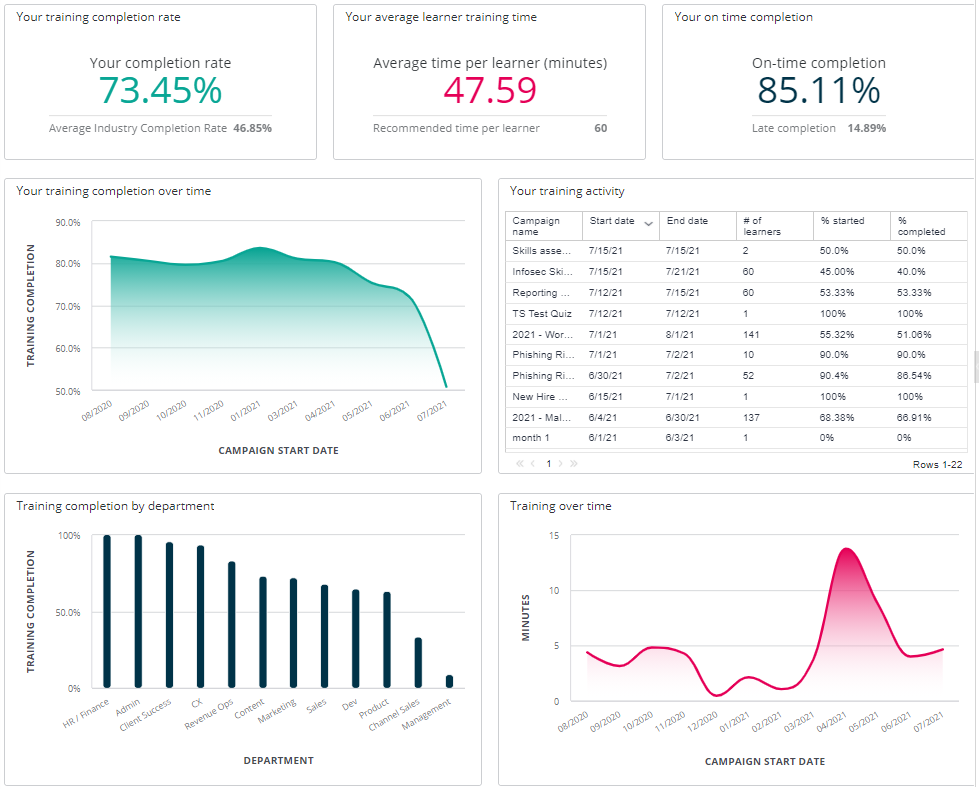 Want to identify knowledge gaps? Monitor your training coverage, assessment performance by topic and performance by each individual training campaign.
Your Learner Reports
Your Learner Reports features all learner details from a single dashboard. View your complete learner list, learner groups, bounced learners and all learners who have accepted your mandatory policy.
Executive Dashboard
The Executive Dashboard features data curated for your executive leadership team. This makes it easy for you to share updates, prove the success of your training efforts and highlight potential risks.
Note: Dashboards will replace all existing Infosec IQ reporting functionality in the coming months. In the meantime, all existing Infosec IQ reports will continue to function as normal.
Watch the latest security awareness training modules
Three new training modules in the Core Concepts training series are live, giving you additional training options and compliance coverage.
Explore the ins and outs of malware with this module covering malware types, targets and delivery methods. Learn to detect and avoid dangerous malware attacks.
The PPRA, or Protection of Pupil Rights Amendment, is an important piece of student privacy legislation. Explore the details of this amendment with this module, including the rights it covers and who it applies to.
Core Concepts: CIPA
Explore the challenges and complexities of the Children's Internet Protection Act. Learn why it was created, who it applies to and certain exceptions to the rule.
Explore what's coming next
Want a preview of the training content and features coming soon? Read the LX Labs roadmap to see what our talented content team is working on and reference the Infosec IQ product roadmap for upcoming features.
Contact Information
Jeff Peters