A Successful Security Awareness Program. Made Simple.
July 06, 2023
Positively impact cybersecurity culture with the help of expert guidance and ease-of-use automation.


Our security awareness training platform, Infosec IQ, will save you time and resources by automating and streamlining the most manual portions of a security awareness program.


We've combined 20 years of industry experience with compliance frameworks like NIST to create pre-built training plans, ready-to-use campaign kits and supplemental creative assets (i.e., posters, infographics, etc.). Our training platform's built-in automations take the guesswork out of building and running a successful security awareness training program and help you surface the most impactful (and actionable) metrics — allowing you to focus on other strategic security priorities.
This post will highlight our newest feature, campaign templates, and other features that equip program managers with all the tools they need to run a successful training program.
Jump to
New! Campaign templates | Security awareness program plans | Award-winning support | Pre-built reporting dashboards | Automated & personalized training
NEW! Campaign templates
In order to deliver training content or simulated phishing tests, program managers create what we refer to as a campaign — where they specify what content or phishing tests the employee(s) receives and when they'll receive it. Infosec IQ administrators can configure training and phishing campaigns based on our recommended program plans and recurring campaigns to address specific behaviors and training needs.
Our expert team of client success managers and content specialists recently designed templates based on the most common campaign builds. These templates come pre-configured with client-proven settings and relevant content selected that contribute to the overall success of a security awareness training program for your organization — giving you all the pieces of the puzzle without all the guesswork.
Below is an overview of what you can accomplish, in just a few clicks, with these newly added templates:
New hire campaign: Assign training automatically to new employees one day after they start
Catch of the Week: Practice phishing resilience by automatically sending your employees relevant simulated phishing tests each month.
Annual compliance training: Meet annual training requirements alongside your ongoing monthly training program.
Business email compromise: See how your learners might reply in an attempt to impersonate company stakeholders and trick your employees into returning information.
Choose your Own Adventure: Engage learners with gamified content to keep cybersecurity training fun and memorable.
And more! Schedule a meeting with an Infosec team member to see a live demonstration of these templates!
Security awareness program plans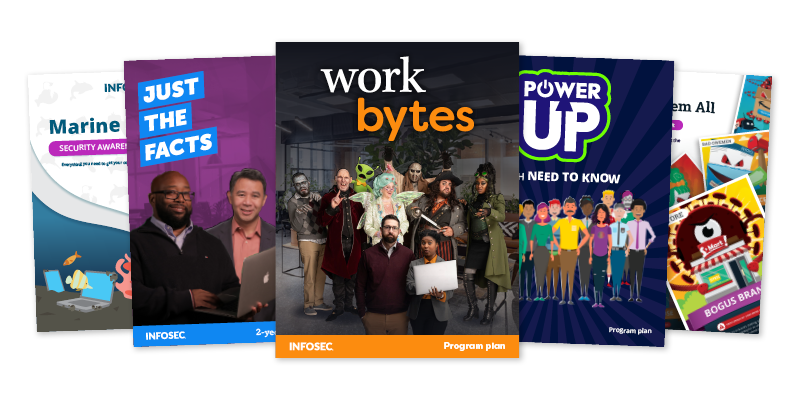 We understand that managing a security awareness training program is just one of your many strategic cybersecurity priorities. That is why we've partnered our 20 years of industry experience with compliance frameworks like NIST to create pre-built program plans that enable you to set up months (or even years) of training campaigns in advance. Each program plan covers the fundamental cybersecurity topics and threats your employees could encounter — we even have specific program plans built for different industries (for example, education).
Award-winning customer support
When you partner with Infosec, you are assigned a dedicated client success manager to assist with your security awareness training program. As Certified Security Awareness Practitioners (CSAP), they will serve as your security awareness training advisor, sharing best practices, benchmarks and guidance to help you build and enhance your program.
Pre-built dashboards with actionable data
A successful security awareness program helps reduce the number of security events and positively changes learners' behaviors at your organization — but how do you track it? How do you show stakeholders the return on their investment? Typically by analyzing and interpreting the campaign data (which can be a full-time job in itself).
Our BI reporting tool automatically surfaces your most impactful data through 9 prebuilt dashboards — so you can spend less time gathering, analyzing and interpreting data and more time addressing your greatest vulnerabilities.
These dashboards provide you with actionable data to positively change employee behaviors and enable you to surface:
Executive-level metrics curated for your leadership team to provide updates, prove the success of your training efforts and highlight potential risks.
Employee behavior metrics to better understand your workforce's strengths and vulnerabilities.
Simulated phishing and awareness training metrics to show progress and compare performance against industry benchmarks in a single view.
And more! Schedule a meeting with an Infosec team member to see a live demonstration of these templates!
Automated and personalized training to empower learners
Infosec IQ enables program managers to configure rules to automatically group employees by department, location, risk score and more to organize your awareness program and tailor training for each group. Program managers can build recurring campaigns that trigger personalized training based on an employee's performance or risk profile to help reinforce positive security behaviors.
Author Information
Emma Waite
Product Marketing Manager
Infosec IQ
Want to explore more?
Preview all 2000+ security awareness training resources, time-saving tools and more by creating a free Infosec IQ account today!
Contact Information
Jeff Peters