Learning Path
CompTIA IT Fundamentals (ITF+)
Learn the essential knowledge, skills, tricks and tools needed to begin an IT career.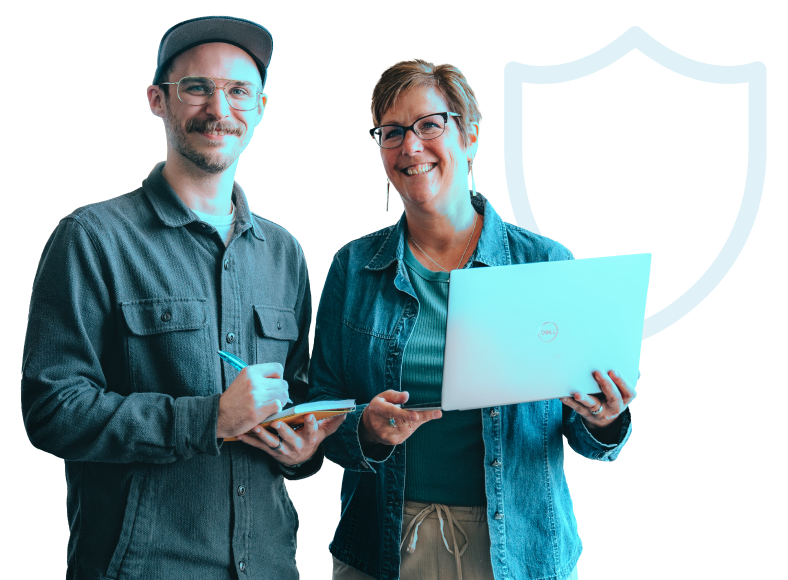 What you will learn
Computer skills are more useful than ever when it comes to succeeding in business or personal life, and a little knowledge can take you a long way. This learning path will unpack some of the mysteries of information technology. Beginning with how people use computers and fundamental items like system hardware and device peripherals, you'll explore the details of operating systems and look at how to set up and configure a device. Then you'll follow along as we explore crucial networking concepts and skills such as managing files and application software and configuring network connectivity. Next, we prepare for the worst with courses on computer maintenance, threat mitigation, troubleshooting and more. And finally, wrap up with an exploration of developing and implementing software, allowing you to start on the path to creating your own programs.
Syllabus
CompTIA IT Fundamentals Skill Assessment

Assessment - 85 questions
How People Use Computers

Course - 00:19:00

Explore the details of computers and computer use with this course. Our experienced instructor takes you through computer functions, common computer features and computer types, networks, specialized systems and speciality I/O devices which focus on specific tasks.
System Hardware

Course - 00:24:00

Dig deeper into the details of system hardware in this course. Explore the details of CPUs (Central Processing Units), passive and active cooling, RAM and active memory, motherboards and power supplies. Then we wrap up with a module covering additional questions about CPUs, RAM, binary and heating and cooling.
Device Ports and Peripherals

Course - 00:13:00

Ports and peripherals can help your computer communicate with other devices. With this course, our instructor will take you through ports and connectors and the general use of input-out devices, as well as different types of video cards and cords.
Data Storage and Sharing

Course - 00:17:00

Dive deeper into the details of data storage and sharing, and learn some of the ways we keep and transmit data. In this course, you'll look at the basics of the binary language and explore storage technologies and mass storage technologies, as well as different types of storage like CDs and hard drives.
Understanding Operating Systems

Course - 00:14:00

How, exactly, do operating systems work? What can you expect from your OS? Explore some of the relevant details of operating systems in this course covering operating system functions, operating system interfaces, Windows versions, Windows versus macOS and more.
Setting Up and Configuring a PC

Course - 00:16:00

Getting ready to use a PC means setting up and configuring it before you can get anything done. In this course, you'll explore the details of setup and configuration: preparing the work area, setting up a desktop PC and completing a desktop PC. This course also includes details about data loss and hotkeys.
Setting Up and Configuring a Mobile Device

Course - 00:22:00

There's more to mobile devices than whether you have the right apps installed. With this course, you'll dig into the details of setting up and configuring a mobile device. Beginning with personalizing a typical tablet, you'll also look at cellular data and storage, app crashes, synchronization and more.
Managing Files

Course - 00:18:00

Thousands of files will pass through your hands in your lifetime. In this course, you'll explore the details of files and file management: the tools used to manage files in various operating systems, the different types of file manipulation and the importance of keeping safe backups.
Using and Managing Application Software

Course - 00:17:00

There's an application for it — whatever "it" happens to be. Explore the variety and use of applications with this course on application software, including installation, maintenance, file extensions, different applications that do the same thing and more.
Configuring Network and Internet Connectivity

Course - 00:26:00

Networking is a crucial part of any system these days. In this course, you'll take a closer look at the details of configuring network and internet connectivity. Beginning with Wi-Fi setup, you'll look at internet speed, printer setup, switches, routers and more.
IT Security Threat Mitigation

Course - 00:31:00

Modern IT is a battleground, and the enemies are more numerous than many people realize. In this course, you'll dig into the details of IT security threat mitigation. Beginning with physical security and simple principles like social engineering and tailgating, you'll follow our experienced instructor down the rabbit hole of malware, password management, public internet security and much more.
Computer Maintenance and Management

Course - 00:17:00

Anything falls apart if it's not sufficiently maintained, and when it comes to computers, this could have enormous consequences for systems and people. In this course, you'll explore crucial information about computer maintenance and management. Beginning with power management, you'll look at cleaning and maintaining computers, disposal best practices, toner recycling and more.
IT Troubleshooting

Course - 00:24:00

No matter how well-designed a system is, something is going to go wrong eventually. And that's where you come in. In this course, you'll explore the fundamental methodology of troubleshooting, plus common problems such as slow-running computers and low disk space.
Understanding Databases

Course - 00:18:00

Databases are used every day by millions of people, and not many of them know what a database really is. In this course, you'll explore the purpose and functions of databases, the role of relational databases, essential tools and components, database permissions and more.
Developing and Implementing Software

Course - 00:16:00

Programming is an important skill in today's world, and it only grows in value as computers become more and more complex. In this course, you'll be introduced to the art of developing and implementing software. Beginning with introductory concepts and terminology, you'll look at programming languages, pseudo-code, looping, branching, functions and more.
The details
Learning path insights
How to claim CPEs
Should you complete this learning path, you'll be able to download a certificate of completion. Use this to claim your CPEs or CPUs.
Associated NICE Work Roles
All Infosec training maps directly to the NICE Workforce Framework for Cybersecurity to guide you from beginner to expert across 52 Work Roles.
All-Source Analyst

Mission Assessment Specialist

Exploitation Analyst
No software. No set up. Unlimited access.
Skip the server racks and spin up a realistic environment with one click. Infosec Skills cyber ranges require no additional software, hardware or server space so your team can spend less time configuring environments and more time learning. Unlimited cyber range access is included in every Infosec Skills subscription so your team can skill up however they learn best.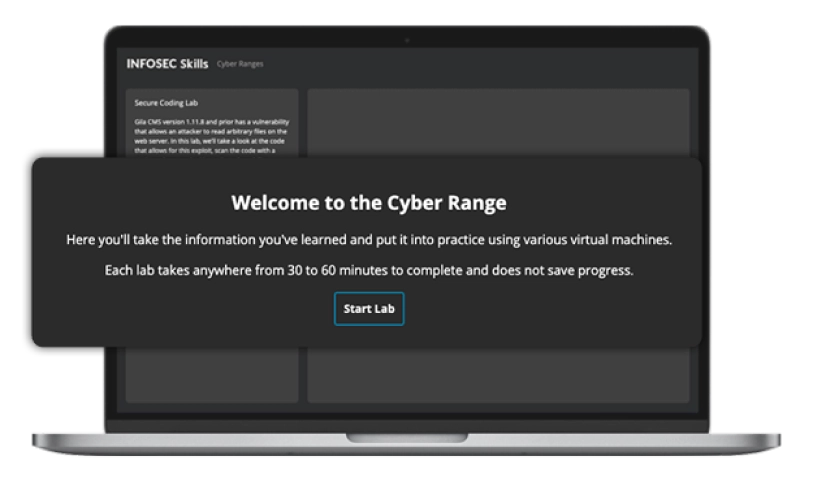 Infosec Skills Personal
$299 / year
190+ role-guided learning paths (e.g., Ethical Hacking, Threat Hunting)

100s of hands-on labs in cloud-hosted cyber ranges

Custom certification practice exams (e.g., CISSP, Security+)

Skill assessments

Infosec peer community support
Infosec Skills Teams
$799 per license / year
Team administration and reporting

Dedicated client success manager

Single sign-on (SSO)

Easily authenticate and manage your learners by connecting to any identity provider that supports the SAML 2.0 standard.

Integrations via API

Retrieve training performance and engagement metrics and integrate learner data into your existing LMS or HRS.

190+ role-guided learning paths and assessments (e.g., Incident Response)

100s of hands-on labs in cloud-hosted cyber ranges

Create and assign custom learning paths

Custom certification practice exams (e.g., CISSP, CISA)

Optional upgrade: Guarantee team certification with live boot camps
Unlock 7 days of free training
1,400+ hands-on courses and labs
Certification practice exams
Skill assessments