This future cyber star's interest is as wide as the Great Plains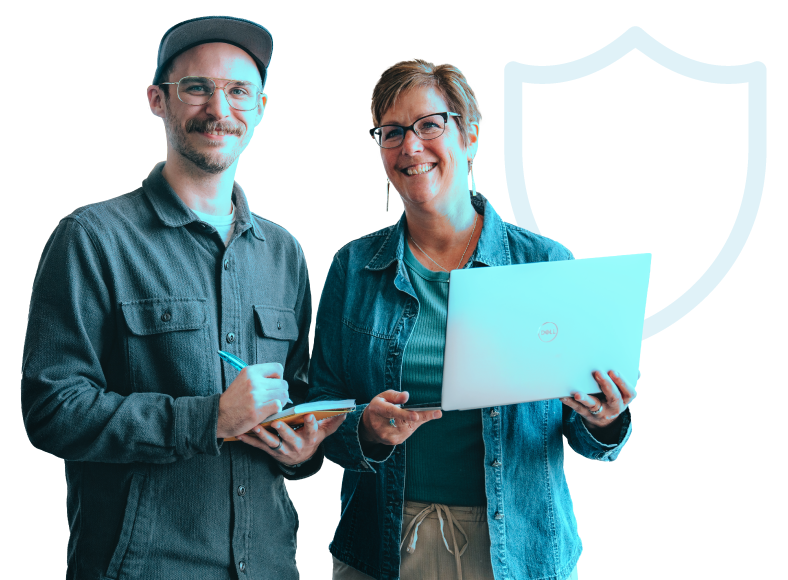 Growing up in Stillwell, Oklahoma near the Arkansas border, 2019 Infosec scholarship winner Benn Garrett did not take the traditional route to a cybersecurity career. A member of the Cherokee Nation, Benn grew up in one of the poorest counties in the U.S., an area where technology and technical training were not widely available. Nevertheless, this self-described "ferocious learner" still managed to carve a successful — although circuitous — path to cybersecurity.
"I was older when I discovered my affinity for cybersecurity work," Benn said. "At my high school, there weren't coding classes or much else related to high tech. Back then, I really hadn't heard anything about cybersecurity."
After high school, Benn worked in sales and for a time ran heavy equipment for an overseas oil company. After returning to the States, he credits his wife, Lauren with helping to spark his interest in going back to school and pursue a degree in cybersecurity.
"Lauren has an interest in languages and has a degree in Spanish. Bridging her love for languages with her desire to learn computers, she returned to school at Park University to study programming languages through a Computer Science degree," explains Benn. "During her time there, she noticed Park added a cybersecurity emphasis in its Computer Sciences program, and even though I was a little older than most college students, she encouraged me to check it out."
Benn says at the beginning of his education journey he had very little knowledge of cybersecurity but that he gave himself time to investigate it not only as a livelihood but also as a vocation.
"I spent a lot of time on Infosec's website reading everything I could find," Benn says. "And I listened to the Cyber Work Podcast. I listened to every podcast and webinar they posted! Instructor Keatron Davis had a huge influence on my decision because he gave me the confidence to believe that I could actually do it.
"Those resources helped me come to the conclusion that cybersecurity would be a good choice for me."
He also points to a real-life malicious attack as an additional formative event in the young security expert's experiences.
"My mother owns a small law firm. In the mid-2000s, she clicked on a phishing email she knew was bad seconds after she did it. The ransomware note arrived soon after, notifying her that all the firm's records were encrypted and that she would have to pay to have them released. Fortunately for her, she had worked with a local computer tech to have all her records backed up, so she didn't have to pay the ransom.
"But that incident impacted me. Everyone thinks the other guy is going to be the next victim of a malicious attack. When it happens to someone close to you, you realize how helpless you can be if not properly protected. My mom's experience also serves as a motivator for me. I don't like to see that happen to anyone, and maybe I can help someone not be the next victim."
This potential cybersecurity analyst knows the opportunities lying ahead are as wide open as the Great Plains he calls home. For now, he's enjoying the journey and learning about all the professional lanes open to him. He's taken an early interest in digital forensics and on his own has taken certified ethical hacker and pen testing courses.
But long term, Benn hopes to combine his cybersecurity knowledge with his other passion — politics and public policy.
"I've previously worked on political campaigns and enjoy it. It's timely now, too, because there is so much talk about whether the 2016 election was compromised or not. I'd like to be able to apply my knowledge and eventually my experience to make a difference in helping protect future elections."
In the future, Benn would also like to serve as a role model to others, including those in the Cherokee Nation.
"I would like to be an advocate to show the possibilities out there and show kids what they could do outside of classwork. Because sometimes you're like, 'Okay, I'm learning this, but I don't care about it. It's not important to me.' And I think maybe if we open up opportunities for kids to take part in internships or be involved in business at an earlier age, they can appreciate the value of classroom learning.
"Being in cybersecurity really provides you a lot of freedom for how you want to work, where you want to work, and what you want to do. That is really enticing to me. If you can show that opportunity to kids, it could be really encouraging."
When asked what the Infosec Cybersecurity Scholarship will do for Benn and his family, he points to the benefit of combining classroom education at the same time he's taking his CompTIA Network+ and Security+ boot camps.
"My wife got her degree and that was fantastic, but she came out of it and said, 'Okay, I've done all this theoretical work. I've coded and took courses, but I haven't actually worked in the business. I don't have some of the entry-level experiential skills needed when you walk into a new job.' That was a big wake up call for us. I didn't want to go down that same path and the scholarship is going to help me in that way.
"I would like to say from the bottom of my heart, thank you," Benn says. "One for the scholarship, but two for having the platform for me to listen to those podcasts and get an idea whether this is what I want to do. Infosec is doing really good work and has impacted my life profoundly. I'm extremely grateful for it."