Scholarship winner wants to pay it forward and help others find a rewarding career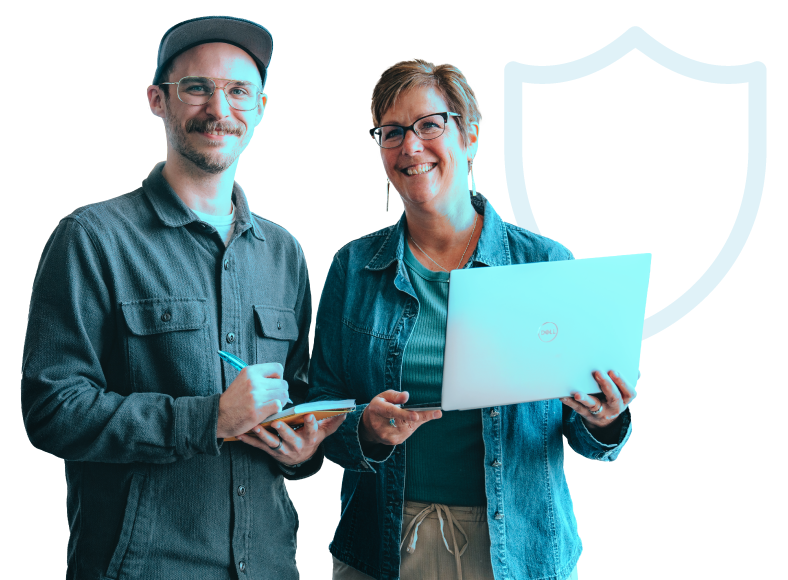 A fulfilling and productive career in cybersecurity can come to those who don't necessarily fit the old stereotype of a tech wizard who rewired their parent's computer while in grade school.
For 2019 Infosec Cybersecurity Scholarship recipient Molly Schoenecker, growing up in Bloomington, Minnesota during the 1990s, a career in security was the last thing on her mind.
"My father owns an HVAC business and my mom is a marketing manager," said Molly. "I was thinking about following their footsteps and going into business. In high school, I didn't take any of the courses that normally lead to cybersecurity because in my head that was where boys and computer geniuses were filling the classes. I wasn't super interested."
A business background makes a great security pro
While attending the University of Minnesota Carlson School of Management — and still undecided on a business emphasis — Molly took a management information systems course that really clicked for her.
"My instructors really emphasized that business people are also needed in the IT world, too," said Molly. "You don't have to be that stereotypical techie I had in my head. You do have to be very smart, of course, and you have to want to work hard. Initially, I didn't think I had the mind for it. I talked to a few juniors and seniors who had taken that major and absolutely loved it and encouraged me to pursue it. Taking intro to programming classes made me realize I can do this, I'm good at it and it's very interesting to me."
Finding a fulfilling career — almost by accident
Following two college internships in IT enterprise infrastructure and project management, Molly got her break into cybersecurity when a family acquaintance, who was the CISO for a corporate travel management firm, asked her to consider interviewing for a security analyst opening.
She was offered the job and after accepting immediately found herself surrounded by colleagues she says, "are the smartest people I've ever met in the industry," who were also serious about helping and mentoring someone new to the industry.
Molly's internship experience in incident management and change management on the IT side translated well into the first assignment — reorganizing reporting, standards, and processes for the incident response program. This led to training as a responder and efforts to gain more technical skills. Although she recently took an opportunity with another company, Molly credits the culture at her first organization for creating an environment where a young person can succeed.
"People can be trained and taught technical information, but it's important to find those who are a good fit," Molly said. "In security you have to collaborate with networking, you have to collaborate with the developers, you have to work with all of the technical teams across the company. People who are open and willing to work well with others will usually exceed regardless of their profession."
Infosec scholarships provide a more well-rounded security pro
For her Infosec scholarship, Molly has already jumped into learning with both feet. She passed and earned the CompTIA Security+ certification already and will move on to the CompTIA Network+ boot camp soon. She recommends Infosec's boot camps as a great way to begin building your cybersecurity 'street cred.'
"The Security+ certification helped me develop a more well-rounded view of security. I was familiar with different domains, but encryption, for example, was totally new to me. I have a basic understanding of the technology and what it's used for, but the specifics about the different types and the different industry standards were important to learn for my career.
"And for Network+, that's another one where it helps you talk the talk and walk the walk," Molly said. "Especially when having conversations with networking teams and other technical infrastructure teams. Network+ may not teach you hands-on firewall requests or firewall rule changes, but you'll be able to speak with them intelligently. For me, it's not important to be the firewall expert at this point in my career, but I need to be able to work and be productive with those teams."
Certifications help move your career forward
Molly points to the certifications as an important factor for many employers and believes some will count a candidate out without them. But she also claims the certifications give her confidence and the feeling of being a well-rounded professional who knows her stuff. Certifications can also open more doors internally for those looking to career advancement and promotion because it signals you are serious about obtaining the skills needed to be constantly improving.
Keeping an active lifestyle
In her off time, Molly maintains an active lifestyle geared toward sports as a break from computer screens all day. She was on the women's lacrosse team during college and is still involved in what she jokingly calls "washed up women's lacrosse" for athletes who are still competitive and not ready to give up the game. Her family is big into snowmobiling and she also enjoys sand volleyball, rollerblading and biking around the picturesque Twin Cities. But this cyber pro also dreams big for the future.
Paying it forward
"I would love to start my own nonprofit or get involved with an existing nonprofit with a focus on helping and preparing women for professional cybersecurity careers," Molly said. "The training I received from the Infosec scholarship has been empowering for me. I'd like to help other women who might be like myself — ready to count themselves out because they didn't know better or were looked down upon and someone said, 'This might be too technical for you to understand.'
"I'd like to help inspire women for this industry. If women get their hands on a keyboard and figure out all they can do, it can be life-changing. When I look at where I am now and think back to high school and early college, I never would have guessed this is the path I'd take. But I love what I'm doing and living the dream."