A career defined by service, persistence and growth
Hugh Shepherd is one of the 2021 Infosec Scholarship winners, demonstrating how far the right attitude and drive for professional growth can take you.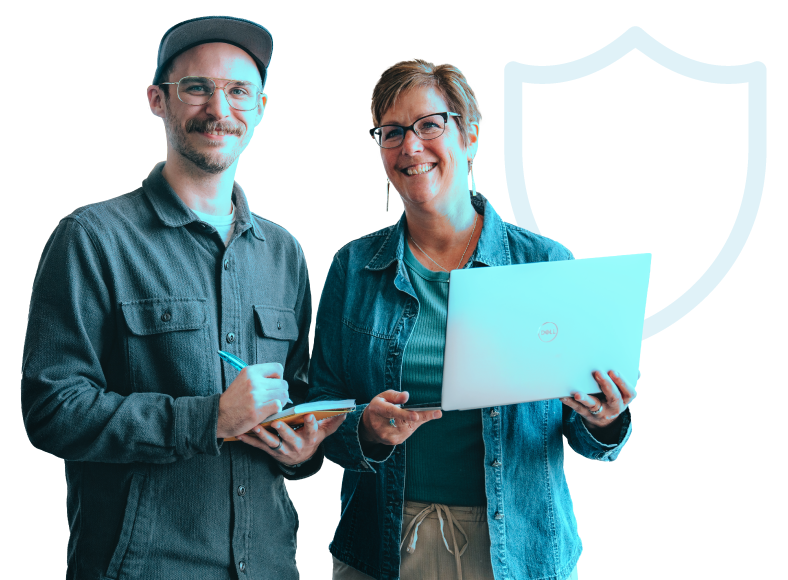 Like many in the information security world, Hugh Shepherd has demonstrated decades' worth of persistence, growth and a penchant for building community. First in his time in the military in the Army's Signal Corps, then in a high-stress management consulting position and through to today as he deepens his cybersecurity skillset running his own freelance consulting business.
However, instead of just doing it for himself and his colleagues, Shepherd is now inspired by someone else: his young daughter.
"I am the father of a happy and curious 20-month-old daughter, so it is important for me to set the example of lifelong learning," Shepherd shares with Infosec, "As a young girl of color, I want to inspire her to not let any barriers stand in her way if she wants to pursue a career in these STEM fields."
Stories like these from professionals like Shephard make Infosec proud to name him one of the select few of 2021 Infosec Scholarship winners.
Learn all you can and try to soak it all in because there's going to be a time in the future where you're like, 'Oh man, I wish I remembered or paid more attention because now it's five years later, I'm encountering it again, and I don't remember any of it.'
The value of seizing every opportunity
After finishing college, Shepherd joined the Army's Signal Corps, where he learned the foundational elements of telecommunications and networking and began what has turned into a long and varied technology career. Shepherd parlayed his telecommunications experience into commercial telecommunications following his military service before joining Deloitte Consulting's Public Sector Practice. Here, Shepherd got his first taste of cybersecurity, leading a team assisting the Department of Defense on a cloud infrastructure project.
"The Department of Defense has these very strict security standards so, because I was the guy who was doing the actual building of the cloud infrastructure, I started getting involved in the security side of things" Shepherd reflected in his interview with Infosec, "I ended up being good at it, and no one else wanted to do it."
After becoming a security policy governance leader and earning cybersecurity certifications including (ISC)² CISSP, CompTIA's Security+ and the Certified Ethical Hacker credential, Shepherd and his family moved to Nepal for a job opportunity that his wife could not pass up.
Since that time, he has expanded the amount of volunteer work he has done, has written for professional publications, has participated in a Blacks in Cybersecurity (BIC) mentorship program, and has started his own freelance cybersecurity company.
Finding the right ingredients for success in security
When it comes to building and maintaining a successful career in technology and cybersecurity, Shepherd says it's important to understand the basics of IT and networking. Still, you're also going to need a passion for continuous learning.
"I think networking is the foundation when it comes to tech, especially today because we're in such an interconnected society. The deeper knowledge you have on it, the better," emphasizes Shepherd, "Everybody wants to be a penetration tester; everybody wants to be the super hacker, but no one wants to make time to understand the infrastructure element."
Shepherd is setting the example by spending his time learning more about blockchain, artificial intelligence and machine learning and bolstering his skills when it comes to securing critical infrastructure.
For others, Shepherd recommends making the most of every opportunity. "Don't get to a place where you're in his mode where you say 'I don't like this, this isn't what I really wanted to do, or I'm too smart to do this.'"
Instead, Shepherd encourages others to use the situation as an opportunity to "just knock it out the park, make the most of it, be the best there that you can and add more value to it." Once you do, others will recognize your potential and your skills and present you with new opportunities.
"Learn all you can and try to soak it all in because there's going to be a time in the future where you're like, 'Oh man, I wish I remembered or paid more attention because now it's five years later, I'm encountering it again, and I don't remember any of it.'"
Shepherd's current focus
In addition to balancing supporting his wife's career in international development and raising a young daughter, Shepherd is looking to use his Infosec Scholarship to reinvigorate his cybersecurity career.
"My short-term goal is to restart my career by gaining skills that are more hands-on and aligned to remote roles such as a penetration tester, network security engineer and cybersecurity analyst so I can evolve into a cybersecurity "digital nomad" while living abroad."
Shepherd is also looking to continue and expand his cybersecurity volunteer work, his role as a mentor and teaching assistant, and continue broadening his technical expertise with freelance technical writing on topics such as IT service management, autonomous vehicle security and quantum computing.
Staying grounded but looking ahead
"Although I'm an older technology professional, the passion, desire and drive are not faltering," Shepherd shared in his interview with Infosec, "In fact, it is growing. Without question, I love what I do — and want to continue to grow and contribute to the advancement of cybersecurity and technology in general."
And with a young daughter watching him continue on his professional development path while also supporting his wife and family, Shepherd has certainly become a role model we can all admire in the larger technology community.