CASE STUDY
Rachel McBride talks online CISM training with Infosec
Learn how this security pro boosted her career potential with a CISM certification and boot camp from Infosec.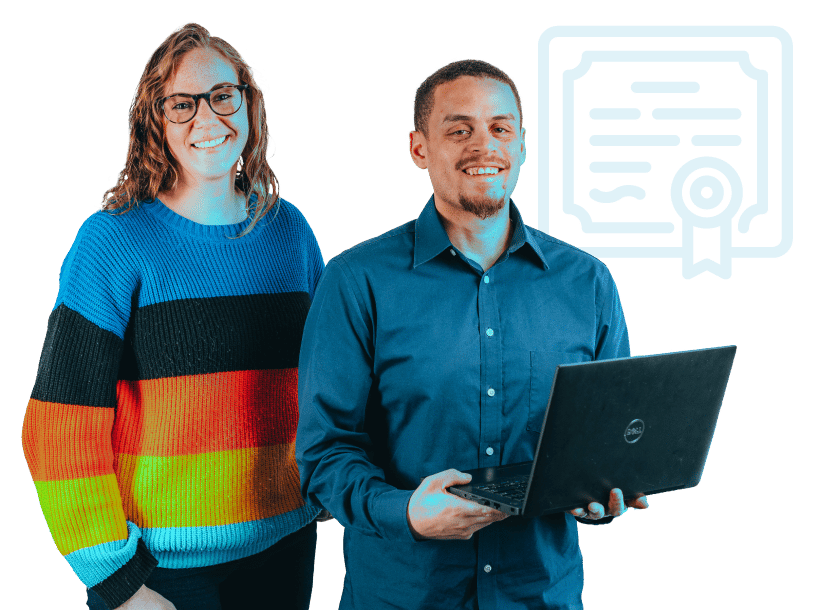 Why did you want to become CISM certified?
Rachel: A few projects back, I was working as a project engineer. We were preparing for a Command Cyber Readiness Inspection (CCRI) at the time, and I took the lead on the project. I oversaw the System Administrators completing the system checks and Security Technical Implementation Guides (STIG) to ensure compliance with IA requirements. I was performing daily checks to determine the status of the STIG checklists and tracking percentages completed to ascertain our level of readiness. I was also reviewing the STIG checklists to see how many CAT I and CAT II were still open for each system.
This is when I first became interested in earning my CISM. I felt it would provide me increased understanding of information security management and qualify me for jobs requiring increased levels of 8570 compliance.
Why did you pick Infosec as your training partner?
Rachel: I shopped around for a few months before selecting Infosec as my training provider. Factors I looked at included exam pass rates, course pricing and whether or not the exam voucher was included in the cost. When I saw Infosec's pass rate was above 90% for both online and in-person training and the course fit my budget, I felt confident about enrolling.
Our sister company also recently did a group CISSP training with Infosec and everyone seemed happy with their experience, so I decided to give InfoSec courses a try.
Earn your CISM, guaranteed!
Infosec's Certified Information Security Manager (CISM) Boot Camp is a five-day training focused on preparing you for the ISACA CISM exam. You'll leave with the knowledge and domain expertise needed to pass the CISM exam the first time you take it.
You've taken in-person training before. How did the CISM online training compare?
Rachel: Training online was slightly different from the in-person training I've taken in the past, but mostly the same. I still had the interaction with the instructor and other students. We could use the mic and the classroom chat feature to interact with others in the class. It was like I was there.
I would gladly do the online training again. It worked well for me, and I liked the flexibility it provided. I didn't have to worry about travel or traffic. I just had to get out of bed, get on a computer and go.
Tell me about your instructor.
Rachel: My instructor, Ken, was fantastic. He brought a lot of real-world experience to the class. His personality and interactions with students made the training more engaging. He knew when to take breaks, when to joke and when to get back to business. It was a great balance.
What was class like? Were the course materials helpful?
Rachel: At first glance, the course materials looked overwhelming. But interaction with the instructor gave them a totally different feel. Ken would highlight key points from the materials, and then give his experience, knowledge and perspective on the subject. It made a huge difference.
He would also ask the class questions and initiate discussions so we could contribute our own stories and experiences. I felt totally engaged.
Ken also recommended we use the ISACA's question database and Infosec's SkillSet to prepare us for the questions we might see on the exam. I used SkillSet to prep for my Security+ exam as well — it was really helpful.
Did you feel prepared for your exam after class?
Rachel: Yes. With exams like the CISM, if you try to answer questions with practical knowledge you've learned in the field, you will fail.
Ken made sure to point this out to the class. You have to dissect every question and make sure you understand what ISACA is testing you on. This was the case when I took my PMP exam too — practical knowledge alone won't help you pass.
Would you recommend Infosec training to your peers?
Rachel: Yes, I would. I plan on taking the CISSP Boot Camp next. Infosec is my only consideration.
Customer
Rachel McBride, ITIL Expert and Senior Consultant
Products
Infosec Skills Live Boot Camps
Customer Needs
Rachel McBride is a certified ITIL Expert and Senior Consultant at Vintun, a Virginia-based information, program and technology solutions provider. A seasoned business analyst and project manager with over 15 years of experience, Rachel enrolled in Infosec's Certified Information Security Manager (CISM) Boot Camp in early 2018 to secure her CISM certification and advance her career. Rachel passed her CISM exam shortly after class and plans to enroll in Infosec's CISSP Boot Camp training in the coming months. Here's what Rachel had to say about her first training experience with Infosec.