Windows 10 Host Security Learning Path
10 hours, 5 minutes
What you will learn
Editing policies at both the host level as well as utilizing tools in Active Directory are covered and demonstrated to help keep your data safe, as well as any client data that the hosts may contain. Many different real world examples are presented as well as experiences from the presenter. See how your organization can benefit by protecting your Windows 10 computers from malware, wireless hacking, open firewall ports, browsing the web and much more.
Syllabus
Windows 10 Host Security Skill Assessment

Assessment - 54 questions
Introduction and Overview of Windows 10 Host Security

Course - 00:12:00

Windows has a history of not securing their past operating systems. With hackers becoming more sophisticated, Microsoft had to up the ante. With Windows 10, not only is there a much better policy for patching Windows 10, but there are many new features as well to keep your Windows 10 host safe along with every other PC in your organization.
Data Security

Course - 01:13:00

Privacy laws require you keep any client data secure, and in the videos in this course, you'll learn how to do this using NTFS security and share permissions. You'll also learn how to calculate permissions when both types of security are applied to your Windows folders. You'll also learn about file encryption and keeping viruses from executing when you plug in a device.
Authentication Mechanisms

Course - 00:37:00

Authenticating to a Windows host has to do with the way you log into it. All different ways Microsoft has created for you to log into your computer are discussed, including usernames and passwords, biometrics, picture passwords and PINs. There's also a demonstration on how to use a Windows DVD to reset your Windows 10 host password on your computer in case it gets lost, or someone resets it.
Hardening Techniques

Course - 00:46:00

Protect your hosts by blocking open ports in your firewall and making sure your computer is up to date. These are just some of the topics covered in this course on hardening techniques. Also, you'll learn how to create custom firewall rules and what types of ports are most vulnerable to your host computer.
Local Group and Security Policy

Course - 00:17:00

Many IT administrators don't think about what local policies are protecting their Windows 10 hosts. Learn about the types of policies you can create and enforce when Active Directory isn't available and your computers aren't local to your local area network.
Web Browser Security

Course - 00:14:00

Learn how to secure the Edge web browser in this course, as well as utilizing local policies to protect everyone who uses your computer even when you're away from it. Local policies can secure the types of sites a user visits, the font they use and theme they experience. These policies can also keep hackers from taking over your computer while browsing the web.
User Account Management

Course - 00:24:00

Administrator and non-administrator accounts are used for different reasons. Learn how to use policies, single sign-on and UAC to protect yourself and anyone else who uses your computer from creating a backdoor to your computer by signing on.
Application Management

Course - 00:30:00

Application installation can lead directly to downloading and installing malware to your Windows 10 hosts. You can protect yourself using built-in tools such as AppLocker, assigned access, isolation and protected folders. Also, learn how to sideload apps to your Windows 10 hosts so you can use other resources besides the Windows store.
Certificates

Course - 00:36:00

Windows 10 uses certificates in many ways. In this course, several are discussed and demonstrated. Learn how to create a certificate using PowerShell and what to do with the certificates to protect your computer.
Auditing Features

Course - 00:45:00

Using Windows logs is a quick way to view the status of our Windows 10 hosts. Covered in this course are the various types of logs in Windows 10 and how to use them to troubleshoot programs and services. This can lead to a healthier computing environment that is better suited to being protected from hackers and malware.
Backup and Recovery

Course - 00:56:00

Did you know there are two types of backups in Windows 10? Only one of them can allow you to restore your entire hard drive in case of a disaster. Learn about backup types, shadow copies, malware delivery and anti-malware software to protect your Windows hosts from any catastrophe.
Wireless Security

Course - 00:35:00

This course covers wireless security for your Windows 10 hosts. Learn about encryption from the past, present and the future of wireless security. See a demonstration on how to secure a wireless access point before you connect with your Windows 10 host.
Remote Access Security

Course - 00:24:00

If you have staff that are remote or work remotely yourself, you'll need to see how to protect them from attack. Learn about the different types of virtual private networking and see a demonstration on how to set up a VPN server and connect securely to it from a Windows 10 computer.
The details
Learning path insights
How to claim CPEs
Should you complete this learning path, you'll be able to download a certificate of completion. Use this to claim your CPEs or CPUs.
Associated NICE Work Roles
All Infosec training maps directly to the NICE Workforce Framework for Cybersecurity to guide you from beginner to expert across 52 Work Roles.
All-Source Analyst

Mission Assessment Specialist

Exploitation Analyst
No software. No set up. Unlimited access.
Skip the server racks and spin up a realistic environment with one click. Infosec Skills cyber ranges require no additional software, hardware or server space so your team can spend less time configuring environments and more time learning. Unlimited cyber range access is included in every Infosec Skills subscription so your team can skill up however they learn best.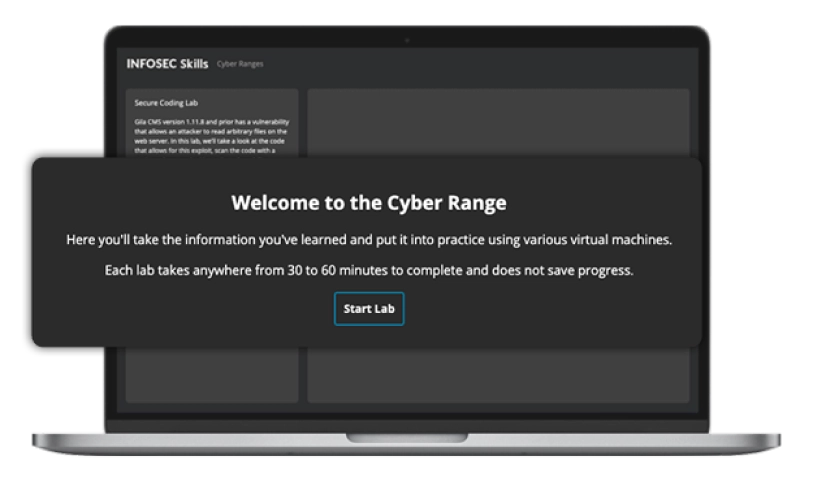 Unlock 7 days of free training
1,400+ hands-on courses and labs
Certification practice exams
Skill assessments
Infosec Skills Personal
$299 / year
190+ role-guided learning paths (e.g., Ethical Hacking, Threat Hunting)

100s of hands-on labs in cloud-hosted cyber ranges

Custom certification practice exams (e.g., CISSP, Security+)

Skill assessments

Infosec peer community support
Infosec Skills Teams
$799 per license / year
Team administration and reporting

Dedicated client success manager

Single sign-on (SSO)

Easily authenticate and manage your learners by connecting to any identity provider that supports the SAML 2.0 standard.

Integrations via API

Retrieve training performance and engagement metrics and integrate learner data into your existing LMS or HRS.

190+ role-guided learning paths and assessments (e.g., Incident Response)

100s of hands-on labs in cloud-hosted cyber ranges

Create and assign custom learning paths

Custom certification practice exams (e.g., CISSP, CISA)

Optional upgrade: Guarantee team certification with live boot camps