Machine Learning for Red Team Hackers Learning Path
7 hours, 34 minutes
What you will learn
Learn the ins and outs of hacking machine learning. The learning path covers topics such as hacking a CAPTCHA system, fuzzing a target, evading malware detection and attacking machine learning systems. You will also learn about deepfakes and how to perform backdoor attacks on machine learning.
Syllabus
Machine Learning for Red Team Hackers Skill Assessment

Assessment - 35 questions
Introduction to Machine Learning for Red Team Hackers

Course - 00:04:00

Get an overview of what to expect in the Machine Learning for Red Team Hackers Learning Path, including highlights of course topics and a brief description of the path's hands-on assignments. In addition, a link to the GitHub repository containing the code base is provided.
Hacking CAPTCHA Systems

Course - 01:57:00

The aim of this course is to implement and use a CAPTCHA-evading bot from scratch. In particular, we will cover the reconnaissance needed for this attack, the training and designing of the deep neural network to power the bot, using selenium to automate the CAPTCHA evasion, and finally, using the created bot on a webpage designed to be attacked.
Smart Fuzzing

Course - 01:49:00

The course begins by teaching the theory, as well as Python implementation, for naive and smart fuzzing, including the topics of code coverage, mutation and genetic algorithms for fuzzing. We will then write a custom evolutionary fuzzer that employs machine learning to fuzz a target, as well as understand the machine learning behind and usage of the famous fuzzer AFL. Finally, you will be given an assignment to hone your skills with fuzzing.
Evading Machine Learning Malware Classifiers

Course - 00:21:00

The course begins by teaching the ideas behind ML-based malware detection and introduces the student to two such detectors, namely MalConv and EMBER. Next, you will learn how to easily modify samples using the LIEF and pefile libraries. You will then learn how to modify real ransomware samples so they are able to evade a ML-based malware classifier. Finally, you will solidify your learning via a hands-on assignment in evasion of a ML malware detector.
Adversarial Machine Learning

Course - 01:33:00

This course begins by providing an overview of white-box and black-box adversarial attacks on machine learning systems. It will then guide you through using the Fast Gradient Signed Method (FGSM) white-box attack on a keras machine learning model. Next, we will cover black-box attacks. You will be guided on using a machine learning as a service system called Clarif.AI and then performing a black-box adversarial attack to trick this service into labeling a benign image as dangerous. Finally, to solidify learning, the student is given an assignment on tricking a MNIST keras classifier via a white-box adversarial attack.
Deepfake

Course - 00:26:00

This course begins by introducing you to deepfake technology and its implications for cybercrime, as well as politics. You will then be guided in using the FaceSwap framework to create your own deepfake videos. Next, a tutorial is given for setting up an environment for performing deepfakes using a GPU. Finally, you will be given an assignment to create a deepfake video to solidify the lessons of this course.
Hacking Machine Learning

Course - 01:14:00

This course will teach you some of the darker, less publicized attacks on machine learning. You will learn how to steal machine learning models (i.e., create high-fidelity copies of black-box machine learning models), how to poison ML models so that their performance is degraded, and how to perform backdoor attacks on ML. The lessons in this course will be solidified through an assignment on backdoor attacks on ML.
The details
Learning path insights
How to claim CPEs
Should you complete this learning path, you'll be able to download a certificate of completion. Use this to claim your CPEs or CPUs.
Associated NICE Work Roles
All Infosec training maps directly to the NICE Workforce Framework for Cybersecurity to guide you from beginner to expert across 52 Work Roles.
All-Source Analyst

Mission Assessment Specialist

Exploitation Analyst
No software. No set up. Unlimited access.
Skip the server racks and spin up a realistic environment with one click. Infosec Skills cyber ranges require no additional software, hardware or server space so your team can spend less time configuring environments and more time learning. Unlimited cyber range access is included in every Infosec Skills subscription so your team can skill up however they learn best.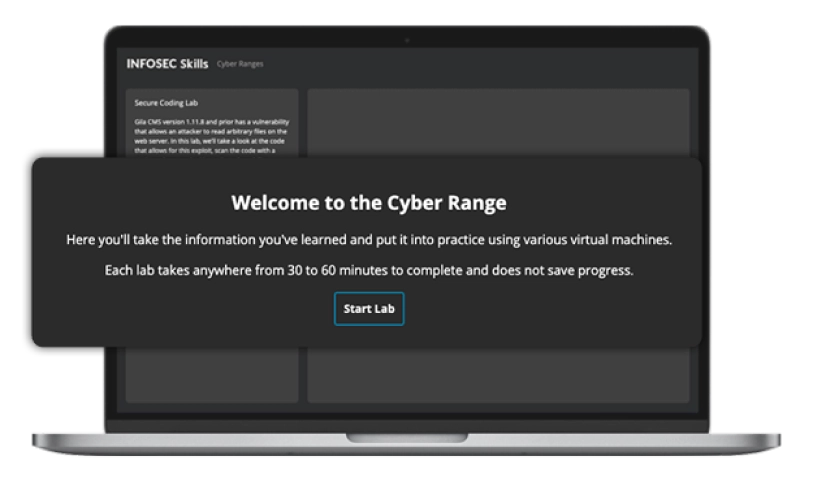 Unlock 7 days of free training
1,400+ hands-on courses and labs
Certification practice exams
Skill assessments
Infosec Skills Personal
$299 / year
190+ role-guided learning paths (e.g., Ethical Hacking, Threat Hunting)

100s of hands-on labs in cloud-hosted cyber ranges

Custom certification practice exams (e.g., CISSP, Security+)

Skill assessments

Infosec peer community support
Infosec Skills Teams
$799 per license / year
Team administration and reporting

Dedicated client success manager

Single sign-on (SSO)

Easily authenticate and manage your learners by connecting to any identity provider that supports the SAML 2.0 standard.

Integrations via API

Retrieve training performance and engagement metrics and integrate learner data into your existing LMS or HRS.

190+ role-guided learning paths and assessments (e.g., Incident Response)

100s of hands-on labs in cloud-hosted cyber ranges

Create and assign custom learning paths

Custom certification practice exams (e.g., CISSP, CISA)

Optional upgrade: Guarantee team certification with live boot camps