CompTIA A+ (2022 Update) Learning Path
24+ hours
What you will learn
This path covers everything you need to know about the CompTIA A+ industry-standard certification exams. You'll learn what it takes to be a professional IT technician beginning with a foundational understanding of computer hardware and software. You'll take tours of various operating systems, and be guided through various features of Windows 10 and 11, macOS, and Linux. You will learn about data storage, command lines and scripts, wired and wireless networking, virtual computing and the cloud. Finally, you'll learn how to troubleshoot a wide variety of issues, how to keep your devices updated and secure, and much more.
Syllabus
CompTIA A+ Practice Exam (2022)

Assessment - 139 questions
A+ Core 1 Practice Exam

Assessment - 131 questions
A+ Core 2 Practice Exam

Assessment - 90 questions
The Basics of A+

Course - 02:05:00

CompTIA creates IT certifications that cover topics such as how to build and fix computers or how to secure businesses from internal and external threats. Every major IT manufacturer is part of CompTIA. The CompTIA A+ certification is a popular entry point for people looking to work in IT. The certification requires you to pass two exams, the Core 1 (220-1101) and Core 2 (220-1102), but requires no experience or study (though, as Mike points out, study is good!)
Core Hardware

Course - 03:05:00

Then you'll learn what it takes to be a professional IT technician, followed by a foundational understanding of computers, including a tour of Windows 10, 11, macOS, and Linux.
Mass storage and peripherals

Course - 03:39:00

Learn how to set up, partition, format, and wipe a drive as well as how to set up a RAID array to keep your data safe if (and when) one of your drives fails. Then learn all about the input-output devices, called peripherals, and how they interface with your computer.
Operating systems

Course - 03:59:00

You'll also learn security protocols for managing users within an OS and the relationship between hardware components of a computer and software components of an operating system.
The Command-line and scripting

Course - 02:00:00

In this course, you will learn how to run simple commands in the CLI and understand how to use "switches" to modify those commands. You will then learn about interpreted languages (which are how computers communicate) such as Microsoft Visual Basic, Python, and JavaScript and how to use those to run scripts that can automate long, tedious tasks.
Displays and printers

Course - 02:05:00

You will also learn how to install graphics cards, and how to troubleshoot displays and printers.
Networking

Course - 04:34:00

You will learn how to crimp your own cables like a real network technician, and how to troubleshoot issues with networks, and how to secure your network using firewalls, DMZs, and VLANs.
Wireless networking and the internet

Course - 03:02:00

Next, you'll dive into the fascinating world of the Internet and learn how it all got started, and the differences between cable, fiber, satellite, and 802.11 wireless. You'll round out this course by understanding other connection protocols such as Telnet, SSH, Remote Desktop Protocol (RDP), File Transfer Protocol (FTP), e-mail, virtual private networks (VPNs), and finally the Internet of Things (IoT).
Virtualization and the cloud

Course - 00:49:00

Want to try something on a computer without accidentally blowing it up? You're in the right place!
Portable and mobile devices

Course - 02:06:00

You'll also get a tour of the main mobile operating systems: Android and Apple's iOS. Finally, you'll learn how to secure and update your mobile devices, as well as how to troubleshoot them when any issue arises.
Security and operations

Course - 02:25:00

You'll also learn how to leverage best practices through proper documentation as well as other important operational procedures so that when you win the lottery and/or inevitably rise to the very top of your field, somebody else can come in and do everything for you without tripping over cords or obliterating your network. Congratulations!
The details
Learning path insights
How to claim CPEs
Should you complete this learning path, you'll be able to download a certificate of completion. Use this to claim your CPEs or CPUs.
No software. No set up. Unlimited access.
Skip the server racks and spin up a realistic environment with one click. Infosec Skills cyber ranges require no additional software, hardware or server space so your team can spend less time configuring environments and more time learning. Unlimited cyber range access is included in every Infosec Skills subscription so your team can skill up however they learn best.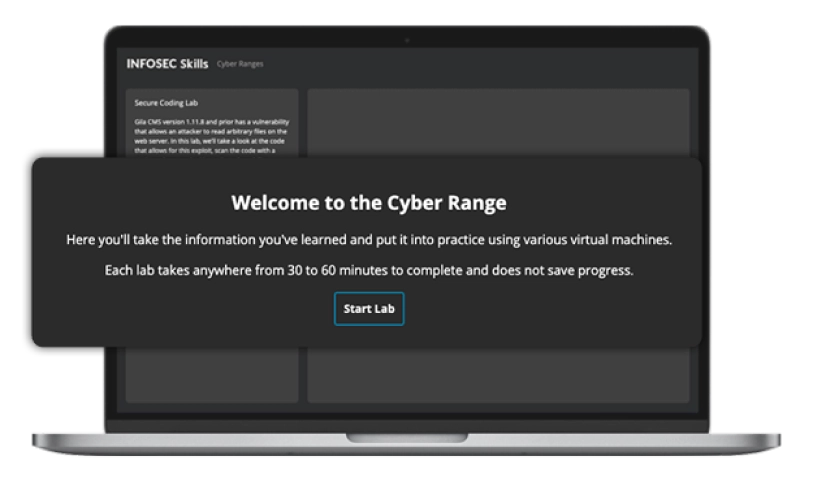 Unlock 7 days of free training
1,400+ hands-on courses and labs
Certification practice exams
Skill assessments
Infosec Skills Personal
$299 / year
190+ role-guided learning paths (e.g., Ethical Hacking, Threat Hunting)

100s of hands-on labs in cloud-hosted cyber ranges

Custom certification practice exams (e.g., CISSP, Security+)

Skill assessments

Infosec peer community support
Infosec Skills Teams
$799 per license / year
Team administration and reporting

Dedicated client success manager

Single sign-on (SSO)

Easily authenticate and manage your learners by connecting to any identity provider that supports the SAML 2.0 standard.

Integrations via API

Retrieve training performance and engagement metrics and integrate learner data into your existing LMS or HRS.

190+ role-guided learning paths and assessments (e.g., Incident Response)

100s of hands-on labs in cloud-hosted cyber ranges

Create and assign custom learning paths

Custom certification practice exams (e.g., CISSP, CISA)

Optional upgrade: Guarantee team certification with live boot camps