CertNexus CyberSec First Responder Learning Path
9 hours, 26 minutes
What you will learn
In the CertNexus CyberSec First Responder course, you learn about cybersecurity fundamentals, including risk management, incident response, security operations and security architecture. We also cover cybersecurity's legal and ethical implications and the tools and techniques used to protect networks and systems.
You'll learn about industry frameworks, including NIST 800-61 r.2 (Computer Security Incident Handling), US-CERT's NCIRP (National Cyber Incident Response Plan) and Presidential Policy Directive (PPD) 41 on Cyber Incident Coordination Policy.
Ready to take the CertNexus Cyber First Responder® CFR-310 exam? Save 10% by using code VXH93HF4A when purchasing their CertNexus exam voucher here.
After purchasing the exam voucher, you will receive an email with info regarding how to register for and schedule your exam at a Pearson VUE testing center or virtual proctoring platform, OnVUE.
Who is this learning path for?
This CFR certification prep training is designed for individuals interested in taking the CertNexus Cyber First Responder® CFR-310 exam. It's recommended for those with two to five years of experience working in a computing environment as part of a CERT, CSIRT or SOC — or as an IT professional on the front line of protecting critical information systems before, during and after a cyber incident. This includes:
SOC Analysts who have been tasked with monitoring and detecting security incidents in information systems and networks and executing standardized responses to such incidents.
Security Managers or other technical professionals who want to build or refresh their knowledge of incident response.
Cybersecurity Beginners or IT professionals who have built a foundation of skills and are ready to dive into incident response and get certified.
What you should know at the end of this learning path:
Master the objectives of the CertNexus CyberSec First Responder certification.
Gain an understanding of the cybersecurity landscape.
Increase your knowledge of cybersecurity threats and vulnerabilities, as well as the impact of different types of attacks.
Acquire skills to identify and respond to different cybersecurity incidents.
Learn techniques to protect and secure networks and systems.
Implement penetration testing and analyze log data.
Have the ability to develop and implement cybersecurity policies and procedures.
Be prepared to pass your CertNexus CyberSec First Responder exam with practice exams and expert guidance.
Syllabus
CertNexus CyberSec First Responder Practice Exam

Assessment - 41 questions
CyberSec First Responder Introduction

Course - 00:04:00
Assessing Information Security Risk

Course - 01:45:00

As a security professional, you are familiar with the ways in which information is vulnerable to theft, destruction, alteration, and unavailability. But good security is not just a process of reacting to individual threats when they appear or closing holes when they are discovered— it's a process of understanding how your information, by its very nature and the ways in which it is used, is at risk of being compromised. When you understand the risks you face from a foundational level, you can better prepare yourself to reduce or eliminate the chances of a security incident occurring and the impact it will have on your information.
Analyzing the Threat Landscape

Course - 00:34:00

Now that you have a foundational understanding of the importance of risk management, you're ready to begin meeting security problems head-on. You need to figure out just what and who it is you're up against as you defend your organization from harm. The threat landscape is huge, diverse, and most important of all, ever-changing. By analyzing the very nature of threats to your organization, you can obtain crucial knowledge to aid in the active defense of your computing and network environments.
Analyzing Reconnaissance Threats to Computing and Network Environments

Course - 00:34:00

Before threat actors launch their attack in earnest, they gather information. The information available to them is almost always a result of their target's behavior. The attacker simply does their own research, and suddenly they've made their job a lot easier. You need to analyze just what attackers can learn from your organization in order to get a better picture of what they'll attack, and how.
Analyzing Attacks on Computing and Network Environments

Course - 01:07:00

You've analyzed the general risks and threats to your systems, and you've identified how attackers can gather intelligence on these systems. Now you can begin to analyze the major attacks themselves. There's a wide variety of ways malicious users can compromise your operations, and it's vital that you understand the potential effects of each one on the organization.
Analyzing Post-Attack Techniques

Course - 00:46:00

After reconnaissance and attack, the last phase of the threat process is post-attack. In many cases, an attacker won't just withdraw once their attack is done; on the contrary, they'll want to stay in control of the systems they've compromised, continue to evade any countermeasures, and cover their tracks to avoid being identified. All of this means that, if you prematurely terminate your threat assessment efforts, they'll have gone to waste. Instead, you need to hone your focus on what an attacker does after an attack that can inflict long-lasting harm on your organization.
Managing Vulnerabilities in the Organization

Course - 00:29:00

You've taken time to assess the threats that your organization faces, and now it's time to deal with the flaws in your network and systems that threats attempt to exploit. By managing vulnerabilities in the organization, you can more effectively identify where your organization is at risk and how to fix any security weaknesses that could lead to an incident.
Implementing Penetration Testing to Evaluate Security

Course - 00:24:00

Now that you've assessed the threats to your organization and the vulnerabilities they will attempt to exploit, you can start a more rigorous effort to evaluate your organization's security posture. This evaluation process uses penetration testing to identify weak points, and more importantly, reveal how to correct those weaknesses and mitigate risk. This course teaches how to conduct authorized penetration tests to evaluate the organization's security posture and analyze and report the results of a penetration test and make mitigation recommendations. Implementing Penetration Testing to Evaluate Security.
Collecting Cybersecurity Intelligence

Course - 00:44:00

Even with the most thorough testing of a security infrastructure, at some point there will be problems. You may be able to stop them as they occur and before they cause any damage, or you may have to deal with investigation of an incident that you were unable to stop. At all times, having good security intelligence will help you keep your systems secure or make them secure again.
Analyzing Log Data

Course - 00:30:00

Now that you've collected security intelligence from a wide variety of log-based sources, you can begin to dissect those logs to reveal key information about potential threats and vulnerabilities. Log analysis is a powerful process that can turn your security intelligence into actionable data.
Performing Active Asset and Network Analysis

Course - 00:54:00

The analysis you perform on log data is important, but it tends to remain static. Most of the intelligence you'll be gathering and analyzing from logs will be actionable only after the event is either underway or already finished. So, to complement this static analysis, you need something a bit more dynamic. That's why, in this lesson, you'll take a more active approach to analyzing your organizational assets.
Responding to Cybersecurity Incidents

Course - 00:48:00

Now that you've performed a comprehensive analysis of your network and other assets, you need to prepare for what much of this analysis will reveal—the reality of a security incident affecting your organization. Responding quickly, yet cautiously, to the inevitable can make all the difference in preventing serious, long-term harm to the organization.
Investigating Cybersecurity Incidents

Course - 00:25:00

Following a cybersecurity incident, you may be called on to perform forensic analysis, such as collecting evidence and determining how and why the incident occurred, and who caused it.
The details
Learning path insights
How to claim CPEs
Should you complete this learning path, you'll be able to download a certificate of completion. Use this to claim your CPEs or CPUs.
Associated NICE Work Roles
All Infosec training maps directly to the NICE Workforce Framework for Cybersecurity to guide you from beginner to expert across 52 Work Roles.
All-Source Analyst

Mission Assessment Specialist

Exploitation Analyst
No software. No set up. Unlimited access.
Skip the server racks and spin up a realistic environment with one click. Infosec Skills cyber ranges require no additional software, hardware or server space so your team can spend less time configuring environments and more time learning. Unlimited cyber range access is included in every Infosec Skills subscription so your team can skill up however they learn best.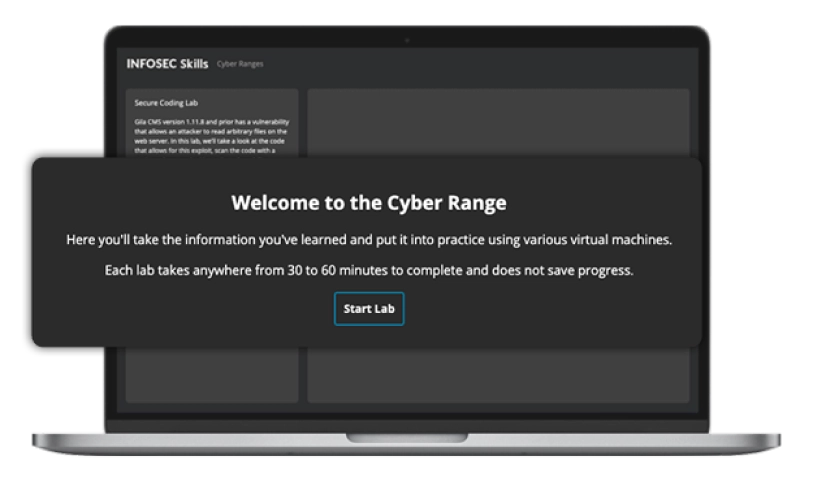 Unlock 7 days of free training
1,400+ hands-on courses and labs
Certification practice exams
Skill assessments
Infosec Skills Personal
$299 / year
190+ role-guided learning paths (e.g., Ethical Hacking, Threat Hunting)

100s of hands-on labs in cloud-hosted cyber ranges

Custom certification practice exams (e.g., CISSP, Security+)

Skill assessments

Infosec peer community support
Infosec Skills Teams
$799 per license / year
Team administration and reporting

Dedicated client success manager

Single sign-on (SSO)

Easily authenticate and manage your learners by connecting to any identity provider that supports the SAML 2.0 standard.

Integrations via API

Retrieve training performance and engagement metrics and integrate learner data into your existing LMS or HRS.

190+ role-guided learning paths and assessments (e.g., Incident Response)

100s of hands-on labs in cloud-hosted cyber ranges

Create and assign custom learning paths

Custom certification practice exams (e.g., CISSP, CISA)

Optional upgrade: Guarantee team certification with live boot camps