One-click email reporting
Encourage employees to play an active role in your organization's security by reporting suspicious emails from their inbox. When your employee uses the PhishNotify report button, the email is marked as spam or moved to their trash and a message indicates whether the email was a simulated phish or a possible threat.
Infosec IQ records all employee reporting data so you can identify your most responsive employees and track your organization's phishing report rate.
Email quarantine
Safely analyze all employee-reported emails from the PhishNotify quarantine to identify threats and take action when needed. Customize notification frequency and recipients to quickly and effectively respond to potential threats.
Reported emails remain in your quarantine with the original sending information, email contents and attachments for 14 days so your team can pinpoint attacks and identify trends.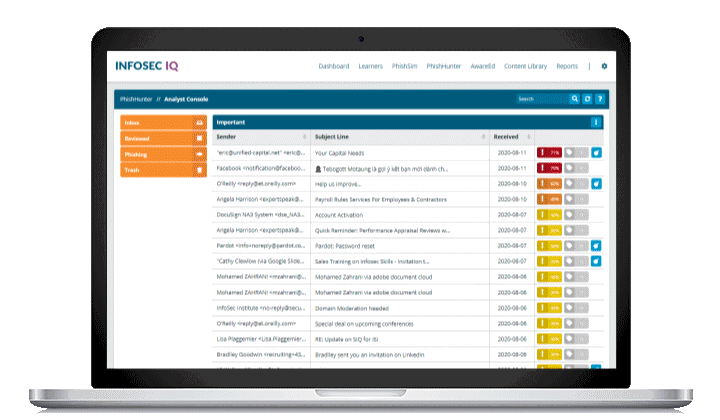 Automated threat analysis
Monitoring and analyzing your employee-reported email quarantine is important, but it takes time. Automate this process and mitigate threats faster with PhishHunter™.
PhishHunter separates employee-reported malicious emails from false positives and orders them by threat level so your team can spend less time reviewing spam emails and more time responding to threats.