Cyber Threat Hunting Training Boot Camp
Transform your career in 3 days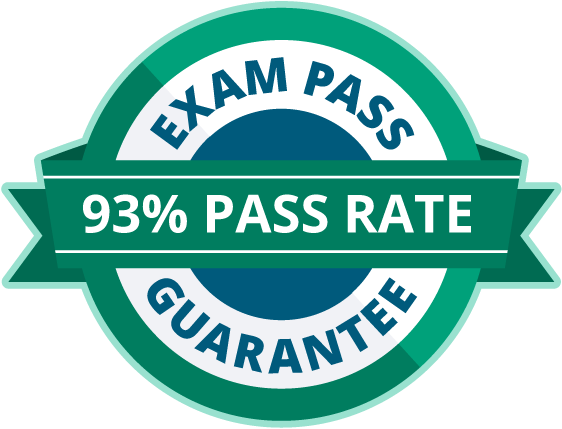 Course essentials
Boot camp at a glance
Method

Online, in-person, team onsite
Ready to discuss your training goals? We've got you covered.
Complete the form and book a meeting with a member of our team to explore your learning opportunities.
This is where the error message would go.
Thanks! We look forward to meeting with you!
What you'll learn
Training overview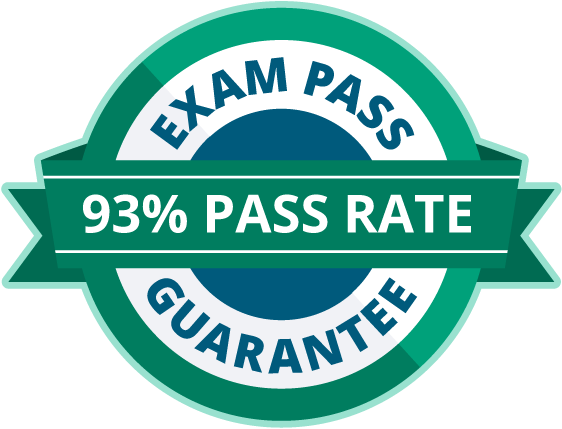 Learn how to find, assess and remove threats from your organization in our Cyber Threat Hunting Boot Camp, designed to prepare you for the Certified Cyber Threat Hunting Professional (CCTHP) exam.
This immersive three-day course will teach you about the latest tactics and tools used to proactively track down hackers and cybercriminals. Taught by industry professionals who have served as penetration testers, incident responders and computer forensic investigators, the Cyber Threat Hunting Boot Camp builds expert-level knowledge and skills in cyber threat identification and threat hunting — and fully covers all five domains of the CCTHP exam.
After attending the cyber threat hunting training, you will have the knowledge and skills to:
Think tactically regarding cyber threat defense
Use threat intelligence to form your hypotheses and begin the hunt
Anticipate and hunt down threats in your organization's systems
Inspect network information to identify dangerous traffic
Understand the Hunting Maturity Model to measure your organization's hunting capability
Learn how to find and investigate malware, phishing, lateral movement, data exfiltration and other common threats
Award-winning training you can trust
What's included
Everything you need to know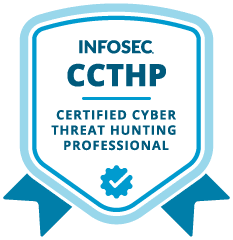 90-day extended access to Boot Camp components, including class recordings

100% Satisfaction Guarantee

Exam Pass Guarantee

Exam voucher

Free 90-day Infosec Skills subscription (access to 1,400+ additional courses and labs)

Hands-on cyber ranges and labs

Knowledge Transfer Guarantee

Onsite proctoring of exam

Pre-study learning path

Unlimited practice exam attempts
What makes the Infosec CCTHP prep course different?
You can rest assured that the CCTHP training materials are fully updated and synced with the latest version of the exam. In addition, you'll gain access to a CCTHP prep course the moment you enroll, so you can prepare for and get the most out of your boot camp.
With 20 years of training experience, we stand by our CCTHP training with an Exam Pass Guarantee. This means if you don't pass the exam on the first attempt, we'll pay for your second exam at no additional cost to you!
Before your boot camp
Prerequisites
Syllabus
Training schedule
Preparation (before the boot camp starts)
Day 1

Introduction to cyber threat hunting

What is threat hunting?
Assumption of breach
The concept of active defense
Role of threat hunting in organizational security program
Threat hunting benefits

Threat hunting process

Preparing for the hunt: the hunter, the data, the tools
Creating a context-based hypothesis
Starting the hunt (confirming the hypothesis)
Responding to the attack
Lessons learned

Threat hunting methodologies

The Crown Jewel Analysis (CJA)
Cyber threat patterns and signatures
Utilizing threat intelligence
Threat hunting hypotheses: intelligence-driven, awareness-driven, analytics-driven

Optional group & individual study

Schedule may vary from class to class
Day 2

Threat hunting techniques

Preparing for the hunt

The hunt is on

Hunting for network-based threats

Hunting for host-based threats

Optional group & individual study

Schedule may vary from class to class
Day 3

Utilizing system and security event data

Event logs and IDs
Logging on Windows and Linux
SIEM
Using event data during hunts

Advanced threat hunting concepts

OODA (Observe, Orient, Decide, Act) loop
Going beyond IOCs: hunting for advanced threats
Chokepoint monitoring
Deceptive technologies
Developing an effective threat-hunting program
Building customized threat-hunting tools
Threat hunting best practices and resources
Exam Pass Guarantee
If you don't pass your exam on the first attempt, get a second attempt for free. Includes the ability to re-sit the course for free for up to one year (does not apply to CMMC-AB boot camps).
100% Satisfaction Guarantee
If you're not 100% satisfied with your training at the end of the first day, you may withdraw and enroll in a different online or in-person course.
Knowledge Transfer Guarantee
If an employee leaves within three months of obtaining certification, Infosec will train a different employee at the same organization tuition-free for up to one year.
Unlock team training discounts
If you're like many of our clients, employee certification is more than a goal — it's a business requirement. Connect with our team to learn more about our training discounts.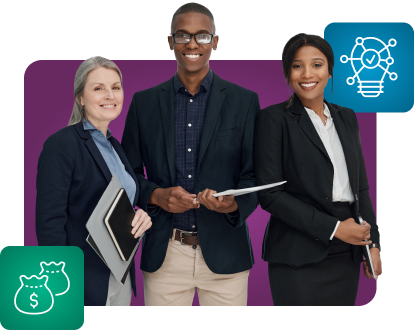 FAQ
Frequently asked questions
What's the job outlook for CISM professionals?

The demand for skilled information security professionals is rapidly increasing as organizations recognize the importance of robust security measures. According to the Bureau of Labor Statistics, employment of information systems managers is projected to grow 16% from 2021 to 2031. CISM-certified individuals are well-positioned to capitalize on these opportunities and pursue rewarding careers in information security.
What is the average CISM salary?

CISM-certified professionals earn a wide range of competitive salaries due to their specialized expertise, with an average $129,000. Visit our

salary information page

to access the latest data on CISM salaries and gain insights into this field's earning potential.
How does the CISM examination process work?

The CISM exam consists of multiple-choice questions that assess your knowledge and application of information security management concepts. It is administered by ISACA and follows a rigorous evaluation process to ensure the integrity and validity of the certification. Read our

CISM exam details

article for more information.
What are some tips for preparing for the CISM?

Being well-prepared and rested is critical to success in the CISM exam. Here are a few tips to enhance your study approach:

Create a study schedule and allocate dedicated time for each domain.
Utilize resources such as study guides, practice exams and online forums.
Engage in practical exercises and real-world scenarios to strengthen your problem-solving skills.
Join study groups or seek guidance from experienced professionals to gain additional insights.
Stay focused, practice time management and review all domains comprehensively.
Get plenty of sleep. You won't perform your best if you stay up all night cramming for the CISM exam, so be sure you are well-rested the night before.
You're in Good Company
I really appreciate that our instructor was extremely knowledgeable and was able to provide the information in a way that it could be understood. He also provided valuable test-taking strategies that I know not only helped me with this exam, but will help in all exams I take in the future.
Michelle Jemmott, Pentagon
Excellent! Our instructor had a vast background and related the materials to real life. Much better than just teaching the materials to pass an exam ... but he did that as well. He went out of his way in class. The extra materials really benefited us when we returned to our real jobs! Great experience!
John Peck, EPA
Very impressed with Infosec. My instructor did a great job delivering the information strategically and in a way for all to understand. I would definitely take another class/certification prep course.
Sylvia Swinson, Texeltek
Explore our top boot camps
More learning opportunities