Cisco CCNA Associate & CyberOps Associate Training Boot Camp with Dual Certification
Transform your career in 7 days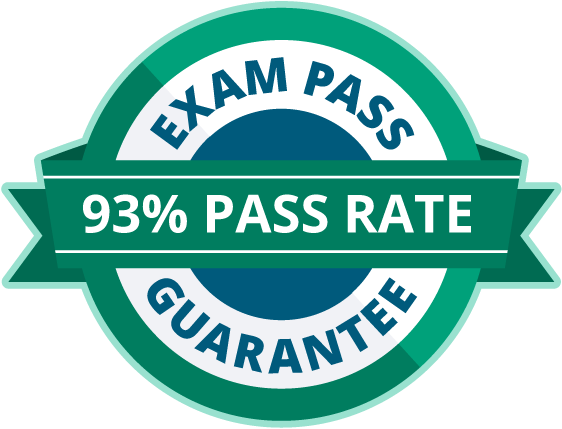 Course essentials
Boot camp at a glance
Method

Live online, in-person, team onsite

Experience

0-1 year of professional experience

Meets 8570.1

DoD information assurance requirements
What you'll learn
Training overview
Our innovative seven-day boot camp is designed to provide you with hands-on experience and comprehensive CCNA training that skillfully prepares you for the CCNA Associate and Cisco Certified CyberOps Associate exams.
With a focus on networking fundamentals, network security and automation, our expert instructors guide you through practical labs and simulations and don't rest until you have the skills to succeed. Join our CCNA boot camp and earn two valuable certifications that will advance your career in the dynamic field of network engineering and cybersecurity.
We've tailored our CCNA boot camp to equip you with the essential skills and knowledge required to keep you highly competitive as a network professional. Throughout the training, participate in practical labs within our Networking Cyber Range, gaining hands-on experience in a networking and switching environment. This prepares you for the simulation-based questions you see on the CCNA Associate exam.
Plus, you receive in-depth training on network security, a vital area in today's networking landscape. Our expert instructors guide you through the CCNA Associate exam curriculum and provide direct training on the Cisco Certified CyberOps Associate program in one comprehensive boot camp experience.
Who should attend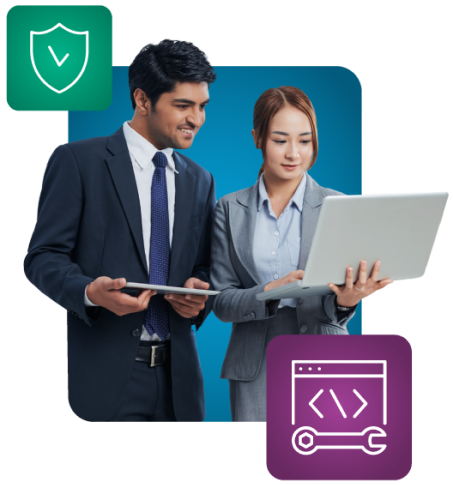 Our CCNA Dual Certification Boot Camp is ideal for you if you want to enhance your network skills and advance your career:
Network engineers

Network administrators
Systems administrators
System engineers
IT managers/directors
Anyone looking to improve their network skills
Regardless of your background, this CCNA Boot Camp leaves you with the necessary skills to make you a front-runner in the world of networking.
Award-winning training you can trust
Ready to discuss your training goals? We've got you covered.
Complete the form and book a meeting with a member of our team to explore your learning opportunities.
This is where the error message would go.
Thanks! We look forward to meeting with you!
What's included
Everything you need to know
90-day extended access to Boot Camp components, including class recordings

100% Satisfaction Guarantee

Exam Pass Guarantee

Exam voucher

Free 90-day Infosec Skills subscription (access to 1,400+ additional courses and labs)

Hands-on cyber ranges and labs

Knowledge Transfer Guarantee

Onsite proctoring of exam

Pre-study learning path

Unlimited practice exam attempts
What makes the Infosec CCNA prep course different?
You can rest assured that the CCNA training materials are fully updated and synced with the latest version of the exam. In addition, you'll gain access to a CCNA prep course the moment you enroll, so you can prepare for and get the most out of your boot camp.
With 20 years of training experience, we stand by our CCNA training with an Exam Pass Guarantee. This means if you don't pass the exam on the first attempt, we'll pay for your second exam at no additional cost to you!
Before your boot camp
Prerequisites
Syllabus
Training schedule
Preparation (before the boot camp starts)
Day 1

Network fundamentals

Role and function of network components
Characteristics of network topology architectures
Compare and contrast network topologies
Physical interface and cabling types
Interface and cable issues (collisions, errors, mismatch duplex, and/or speed)
TCP and UDP
Configuring and verifying IPv4 addressing and subnetting
The need for private IPv4 addressing
Configuring and verifying IPv6 addressing and prefix
IPv6 address types
Verifying IP parameters for client OS (Windows, Mac OS, Linux)
Wireless principles
Virtualization fundamentals (virtual machines)
Switching concepts

Network fundamentals continued

Optional group & individual study

Schedule may vary from class to class
Day 2

Network access

Configuring and verifying VLANs (normal range) spanning multiple switches
Configuring and verifying interswitch connectivity
Trunk ports
802.1Q
Native VLAN
Configuring and verifying Layer 2 discovery protocols (Cisco Discovery Protocol and LLDP)
Configuring and verifying (Layer 2/Layer 3) EtherChannel (LACP)
The need for and basic operations of Rapid PVST+ Spanning Tree Protocol
Cisco Wireless Architectures and AP modes
Physical infrastructure connections of WLAN components
AP and WLC management access connections
Configuring the components of a wireless LAN access for client connectivity

Optional group & individual study

Schedule may vary from class to class
Day 3

IP connectivity

Components of routing table
Determining how a router makes a forwarding decision by default
Configuring and verifying IPv4 and IPv6 static routing
Configuring and verifying single area OSPFv2
The purpose of first hop redundancy protocol
Configuring and verifying inside source NAT using static and pools
Configuring and verifying NTP operating in a client and server mode
Role of DHCP and DNS within the network Function of SNMP in network operations
Use of syslog features including facilities and levels
Configuring and verifying DHCP client and relay
Understanding the forwarding per-hop behavior (PHB) for QoS such as classification, marking, queuing, congestion, policing, shaping
Configuring network devices for remote access using SSH
Capabilities and function of TFTP/FTP in the network

IP connectivity continued

Optional group & individual study

Schedule may vary from class to class
Day 4

Security fundamentals

Security program elements
Configuring device access control using local passwords
Security password policies elements
Remote access and site-to-site VPNs
Configuring and verifying access control lists
Configuring Layer 2 security features
Authentication, authorization and accounting
Wireless security protocols (WPA, WPA2 and WPA3)
Configuring WLAN using WPA2 PSK using the GUI
Traditional networks vs. controller-based networking
Controller-based and software defined architectures
Traditional campus device management vs. Cisco DNA Center enabled device management
Characteristics of REST-based APIs (CRUD, HTTP verbs and data encoding)
Capabilities of configuration management mechanisms Puppet, Chef and Ansible
Interpreting JSON encoded data

Optional group & individual study

Schedule may vary from class to class
Day 5

Automation and programmability

Exam prep

Take CCNA 200-301 exam

Optional group & individual study

Schedule may vary from class to class
Day 6

Security concepts

Describe the CIA triad
Compare security deployments & concepts
Describe the principles of the defense-in-depth strategy
Compare access control models
Describe terms as defined in CVSS
Identify the challenges of data visibility (network, host, and cloud) in detection
Identify potential data loss from provided traffic profiles
Interpret the 5-tuple approach to isolate a compromised host in a grouped set of logs
Compare rule-based detection vs. behavioral and statistical detection

Security monitoring

Compare attack surface and vulnerability
Identify the types, impact and users of data provided by these technologies
Describe network, web application, social engineering and endpoint-based attacks
Describe evasion and obfuscation techniques, such as tunneling, encryption and proxies
Describe the impact of certificates on security (includes PKI, public/private crossing the network, asymmetric/symmetric)
Identify the certificate components in a given scenario
Cipher-suite

Host-based & network intrusion analysis

Describe the functionality of endpoint technologies in regard to security monitoring
Identify components of an operating system (such as Windows and Linux) in a given scenario
Describe the role of attribution in an investigation
Identify type of evidence used based on provided logs
Compare tampered and untampered disk image
Interpret operating system, application, or command line logs to identify an event
Interpret the output report of a malware analysis tool (such as a detonation chamber or sandbox)
Compare deep packet inspection with packet filtering and stateful firewall operation
Compare inline traffic interrogation and taps or traffic monitoring
Compare the characteristics of data obtained from taps or traffic monitoring and transactional data (NetFlow) in the analysis of network traffic
Extract files from a TCP stream when given a PCAP file and Wireshark
Identify key elements in an intrusion from a given PCAP file
Interpret the fields in protocol headers as related to intrusion analysis
Interpret common artifact elements from an event to identify an alert
Interpret basic regular expressions

Optional group & individual study

Schedule may vary from class to class
Day 7

Security policies and procedures

Describe the elements in an incident response plan as stated in NIST.SP800-61
Apply the incident handling process (such as NIST.SP800-61) to an event
Map elements to these steps of analysis based on the NIST.SP800-61
Map the organization stakeholders against the NIST IR categories (CMMC, NIST.SP800-61)
Describe concepts as documented in NIST.SP800-86
Identify these elements used for network profiling
Identify these elements used for server profiling
Classify intrusion events into categories as defined by security models
Describe the relationship of SOC metrics to scope analysis

Exam prep

Take 200-201 exam
What's next?
After you finish the CCNA Dual Certification Boot Camp
After completing the boot camp, you will be certified with the following Cisco certifications:
CCNA

Cisco Certified CyberOps Associate
Completing these certifications will allow you to explore cybersecurity analyst roles. The CCNA certification is a foundation for all the other exams in the Cisco certification program. The Cisco Certified CyberOps Associate certification prepares you to work as a part of a Security Operations Center (SOC) team to detect and respond to network security threats.
Unlock team training discounts
If you're like many of our clients, employee certification is more than a goal — it's a business requirement. Connect with our team to learn more about our training discounts.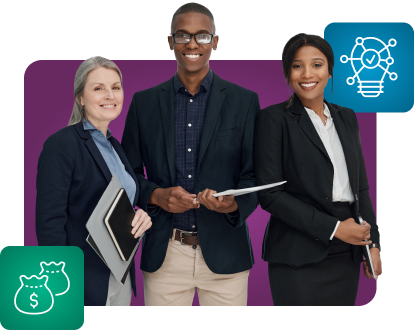 Exam Prep
What tips should I know when preparing for the CCNA and Cisco Certified CyberOps Associate exam?
You should review the exam topics and format to best prepare for these exams. You'll want to practice answering the type of questions and content with practice exams. The CCNA exam covers:
Network fundamentals

IP connectivity

IP services

Security fundamentals

Network access

Automation and programmability
Not sure where to get started? Get an overview of the exam: what it covers, how many questions, how it's changed, and more.
The Cisco Certified CyberOps Associate exam expands upon these topics, covering:
Security concepts

Security monitoring

Host-based analysis

Network intrusion analysis

Security policies and procedures
Career Opportunities
What are the career opportunities like for CCNA certified professionals?
As organizations' reliance on networking grows, the demand for skilled CCNA professionals is on the rise. According to the Bureau of Labor Statistics, employment of computer system administrators is projected to grow 3% from 2021 to 2031. You can pursue roles such as:
Network engineer

Senior network engineer

Network administrator

Information technology manager

Information technology director
With your dual certification in hand, you open doors to previously unavailable CCNA career opportunities.
What job titles are most common for people with CCNA certification?
Some common positions that this certification can help you land include:

Average Salary
CCNA certification salary expectations
CCNA professionals earn competitive salaries. While salaries vary based on experience, location and industry, CCNA professionals on average earn $86,000 annually. Read our CCNA salary information article to access the latest data and see the earning potential in this field.

Exam Pass Guarantee
If you don't pass your exam on the first attempt, get a second attempt for free. Includes the ability to re-sit the course for free for up to one year (does not apply to CMMC-AB boot camps).

100% Satisfaction Guarantee
If you're not 100% satisfied with your training at the end of the first day, you may withdraw and enroll in a different online or in-person course.

Knowledge Transfer Guarantee
If an employee leaves within three months of obtaining certification, Infosec will train a different employee at the same organization tuition-free for up to one year.
FAQ
Frequently asked questions
What's the value in earning the CCNA certification?

The CCNA is one of the most highly regarded entry-level IT certifications on the market today. Earning the CCNA proves to colleagues and employers that you are an educated networking professional who can manage small to medium-sized networks in the real world.
What are the pre-requirements for earning the CCNA?

The CCNA exam itself has no prerequisites, and there are no specific degree requirements to hold the certification. However, it is recommended that you have at least two years of real-world networking experience before preparing for the exam. Familiarity with networking basics like routing, switching and TCP/IP protocol will go a long way. Check out our TechExams article about the Cisco certification changes.
How does the CCNA examination process work?

The CCNA exam (200-301) was released in February 2020 and is a 120-minute exam. Cisco states, "This exam tests a candidate's knowledge and skills related to network fundamentals, network access, IP connectivity, IP services, security fundamentals and automation and programmability."
What format are the exam questions? What do I need to score to pass?

The majority of the questions are in a multiple-choice format. In addition to multiple-choice, you will be required to complete both "drag and drop" and simulation questions. As Cisco notes, "Passing scores are set by using statistical analysis and are subject to change."
How long is the CCNA certification good after you pass the test? What are the renewal requirements?

CCNA certifications are valid for three years after their date of issue, and you can renew before their expiration date by passing the designated recertification exam(s). See Cisco's Career Certifications page for more information on CCNA recertification.
What does CCNA boot camp cost?
Meets 8570.1 requirements
Attention DoD Information Assurance workers! This boot camp helps meet U.S. Department of Defense Directive 8570.1 requirements for department employees or contractors engaged in work related to information security.
You're in Good Company
We had exactly what was needed to prepare us for our exams. The instructor was great. You could tell he loves teaching and was able to keep your attention and get the class to understand the material.
Daniel Knight, Hillphoenix
An excellent instructor that obviously knows the material by heart. He was always clear and concise in his explanations and would break it down if anyone in the class didn't quite get how something worked. He is by far one of my favorite instructors ever, even though I only spent seven days with him.
Chris Soule, Rocky Gap Resort
My instructor was excellent. He made sure that I not only knew the information to pass my exams but also taught us real-world knowledge that is necessary for my job today.
Jeffrey McGill, TIC Gums, Inc.
Explore our top boot camps
More learning opportunities